IK Multimedia "MODO BASS" is a bass software that is as famous as Spectrasonics "Trilian".
In this article, I am going to explain the advantages and disadvantages of IK Multimedia "MODO BASS" and how to use it. Please read the details below;
1. What is IK Multimedia "MODO BASS" ?
Physical modeling bass software developed by IK Multimedia.
Basically, it is an electric bass software with no synth bass or wood bass, but it is a physical modeling software, so its parameters are that it can be tweaked finely.
Development company

IK Multimedia

Price(list price)

Download €299.99

USB drive €329.99

Crossgrade (Download) €199.99

Crossgrade (USB drive) €229.99

Main Specifications

14 types of electric bass software
---
IK Multimedia MODO BASS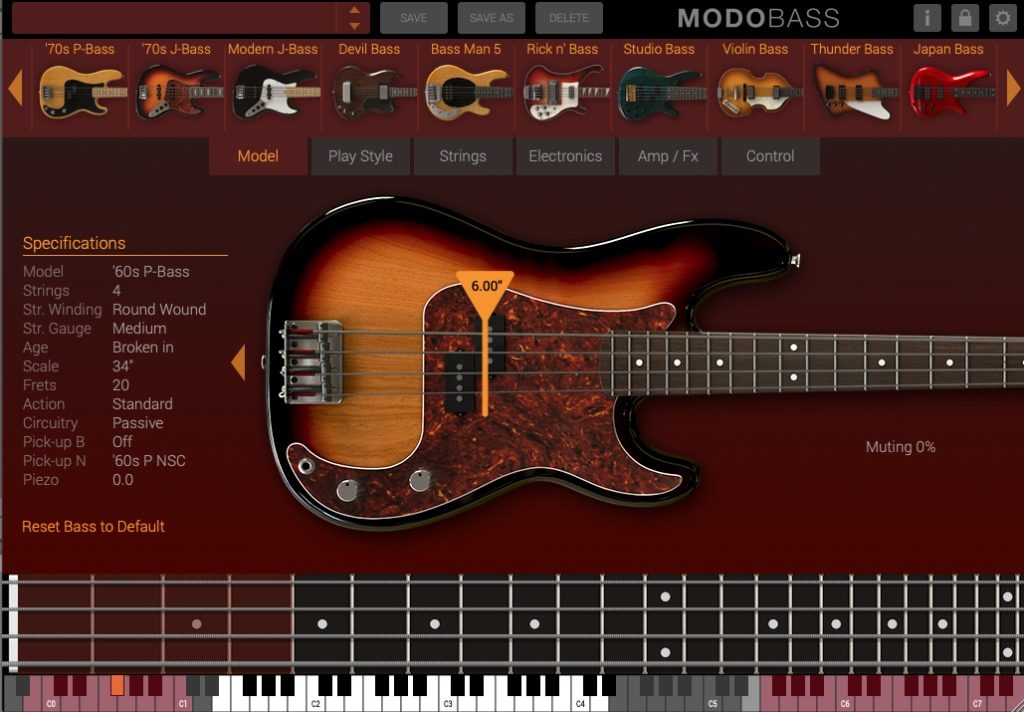 ▶︎IK Multimedia
---
Click here for an article about bass vst plugins.
2. Difference between sampling and physical modeling
Sampling creates sounds based on samples. In contrast, physical modeling simulates virtual sounds.
MODO DRUM, MODO BASS and piano software MODARTT "Pianoteq" are famous as physical modeling software.
Physical modeling can set parameters that cannot be set by sampling. Sampling cannot change the situation before recording. On the other hand, Physical modeling allows you to customize the instrument and change the position of the microphone freely.
Modeling also has the advantage of saving storage compared to sampling.
3. Advantages
There are two advantages when using IK Multimedia "MODO BASS"
Fine adjustment with many parameters

Easy to use even for beginners
(1)Fine adjustment with many parameters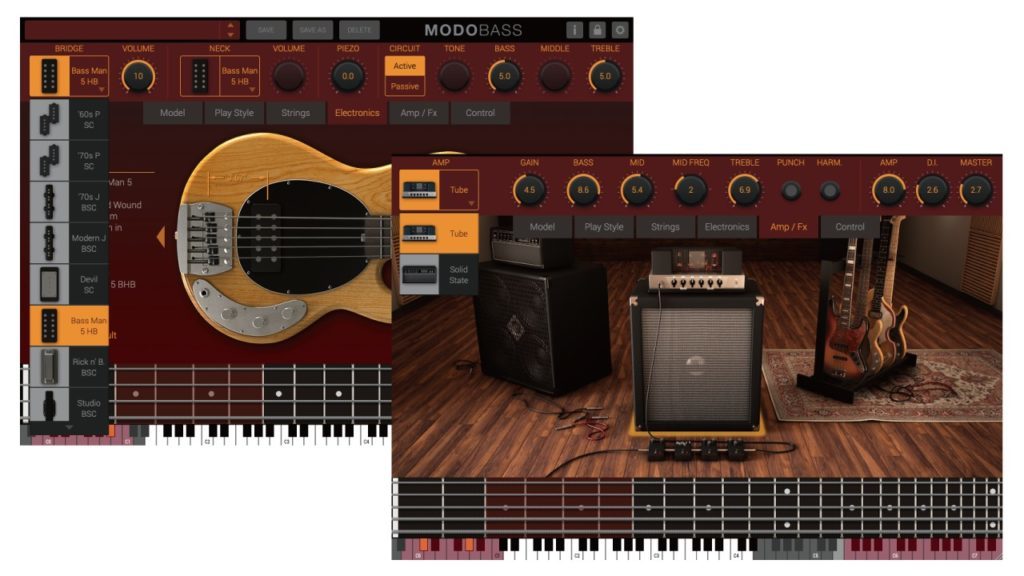 MODO BASS has various parameters, and customization that is difficult with an ordinary electric bass is possible.
For example, you can adjust the pickup type, string type, string height and playing position.
There are various other parameters, which will be explained in detail in "How to use".
(2)Easy to use even for beginners
It is easy to use even for beginners, and you can easily switch the bass playing method. It is possible to create a real bass performance such as mute and slide.
4. Disadvantages that you should know before using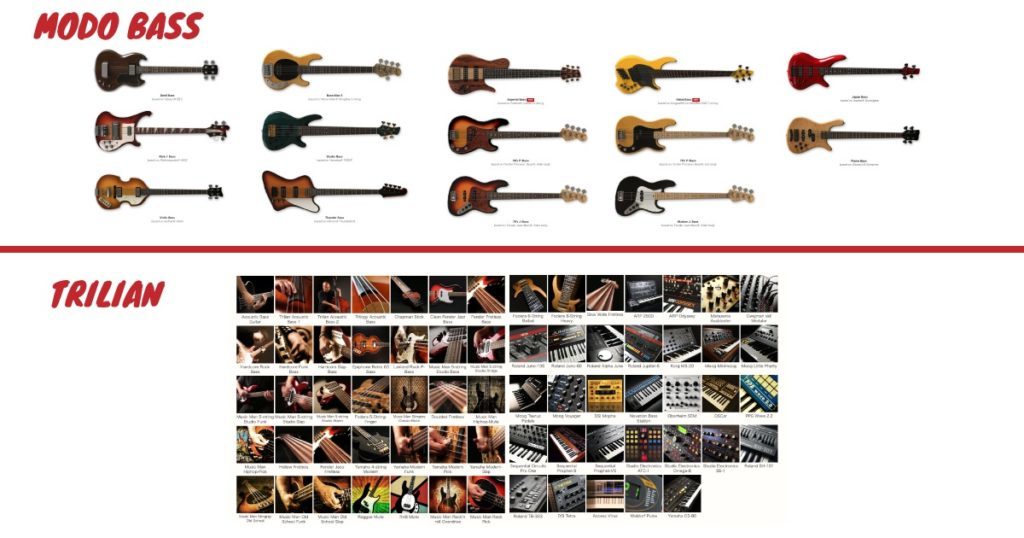 The point to note is that the software is specialized only for electric bass.
So it's good for band sounds, but if you want wood bass or synth bass, I recommend Spectrasonics "Trilian".
5. How to install and activate IK Multimedia products
Activation of IK Multimedia is easy and is completed in the following 3 steps.
Register an account with IK Multimedia

Download Authorization Manager

Product registration and download with Authorization Manager
6. How to use
From here, I will explain how to use "MODO BASS" in the following order.
Model

Play Style

Strings

Electronics

Amp/FX

Control
(1)Model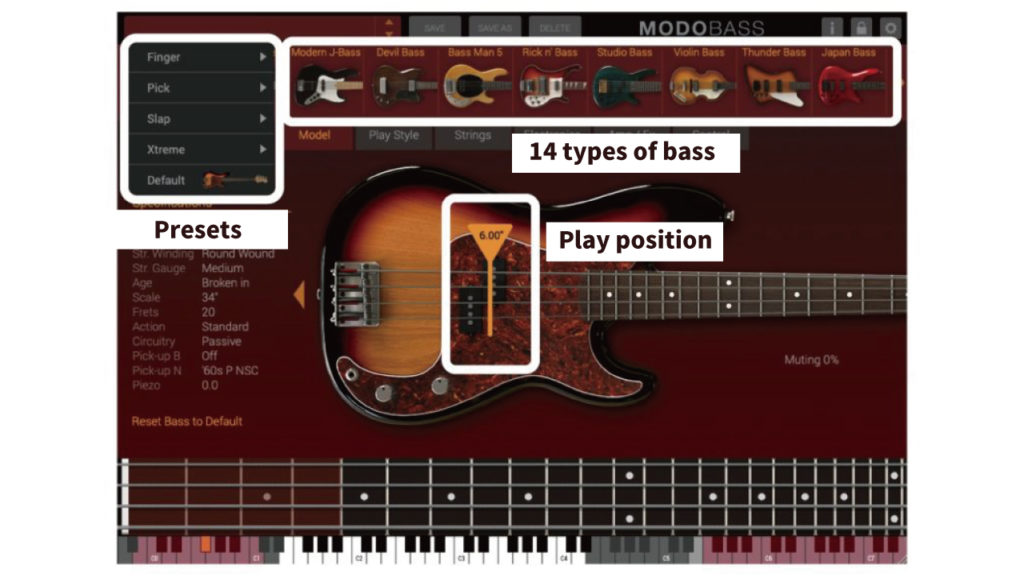 First, click on the space in the upper left to select a preset or choose from the top 14 bass types. There are 133 presets.
Finger 46 types

Pick 42 types

Slap 27 types

XTreme 18 types

Defalt
There is an orange line with a number on the bass body. This is where you play the bass.
(2)Play Style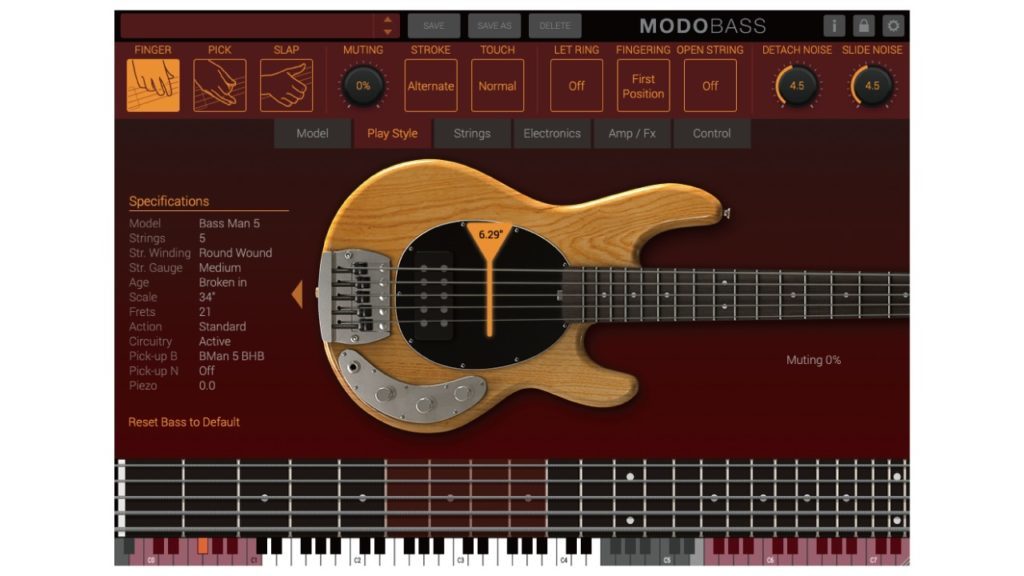 There are three types of playing: FINGER, PICK, SLAP.
The settings change depending on how you play.
FINGER

STROKE
Alternate (index finger and middle finger)

Index (index finger)

Middle (middle finger)
TOUCH(playing strength)
PICK

STROKE
Alternate (Up and Down)

Up

Down
TOUCH
SLAP

STROKE
Auto is THRESHOLD. Slap and Pull automatically change according to velocity.
Common Items

MUTING is how much you mute as the name suggests.
LET RING extends the sound to the next note.
FINGERING sets which string and which position to hold. There are three types.
First Position (As low a position as possible)

Easy (general position)

Nearest (closest position)
OPEN STRING sets whether to insert open strings.
DETACH NOISE is noise when the sound stops.
SLIDE NOISE allows you to adjust the volume of the slide noise.
(3)Strings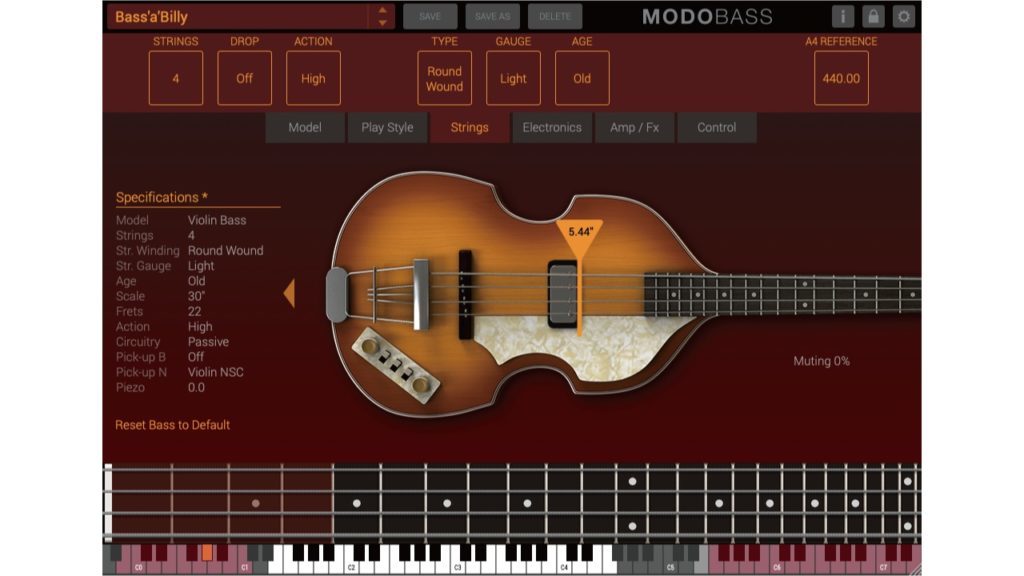 STRINGS can be changed from 4 to 6 strings.
The tuning is changed by DROP, and it becomes Drop D.
ACTION(String height)
TYPE(Type of string)
GAUGE(String thickness)
AGE(String age)
(4)Electronics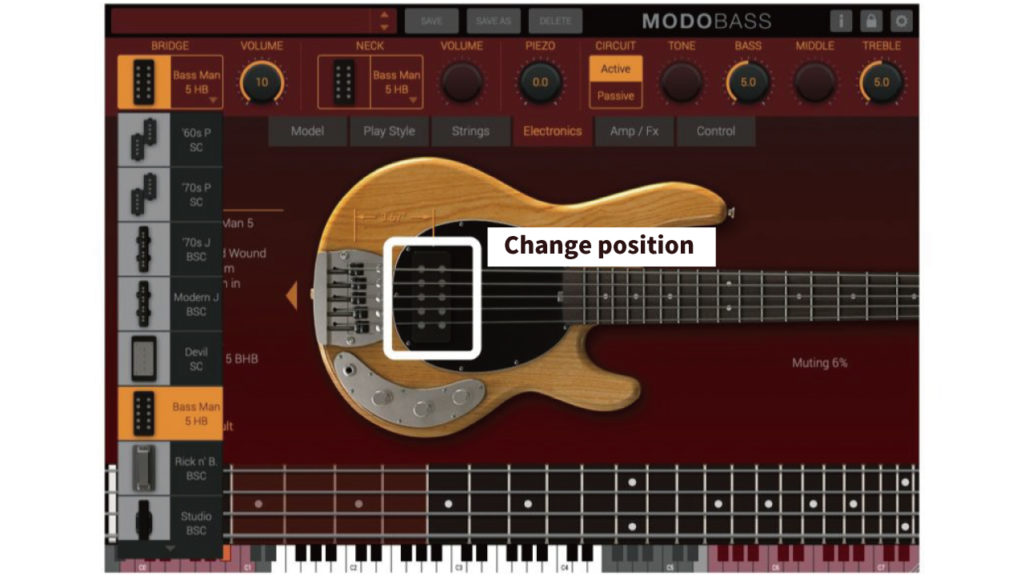 You can select from 14 types of BRIDGE and NECK pickups.
You can also adjust the position by dragging the pickup.
PIEZO reproduces the built-in pickup.
CIRCUIT has Active and Passive, and TONE or EQ can be adjusted respectively.
(5)Amp/FX
Amp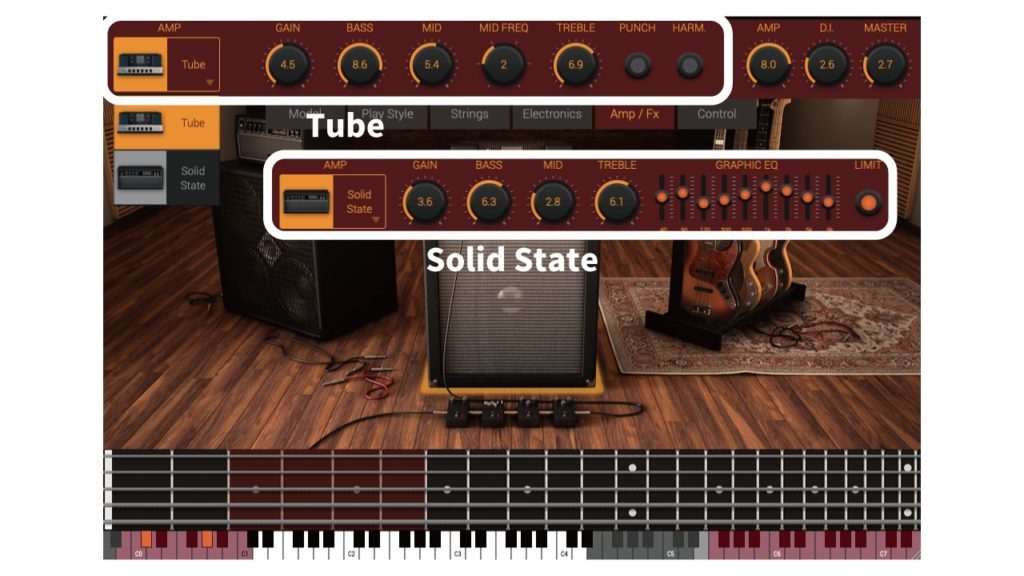 There are two types of AMP.
Tube has EQ, PUNCH, and HARM (harmonics).
Solid State has GAIN, 3-band EQ and Graphic EQ. LIMIT is a limiter.
Fx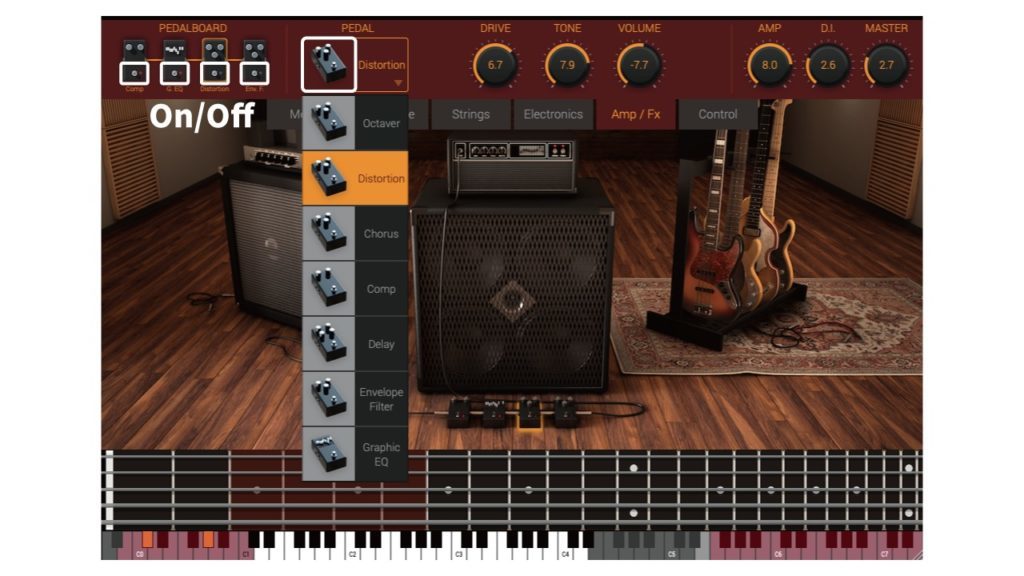 There are seven types of effectors.
Octaver

Distortion

Chorus

Comp

Delay

Envelope Filter

Graphic EQ
You can apply up to four effects.
To turn the effect on or off, press the corresponding pedal button or click "PEDAL" to switch the effect.
For common items, the volume balance can be adjusted with AMP, DI, and MASTER.
(6)Control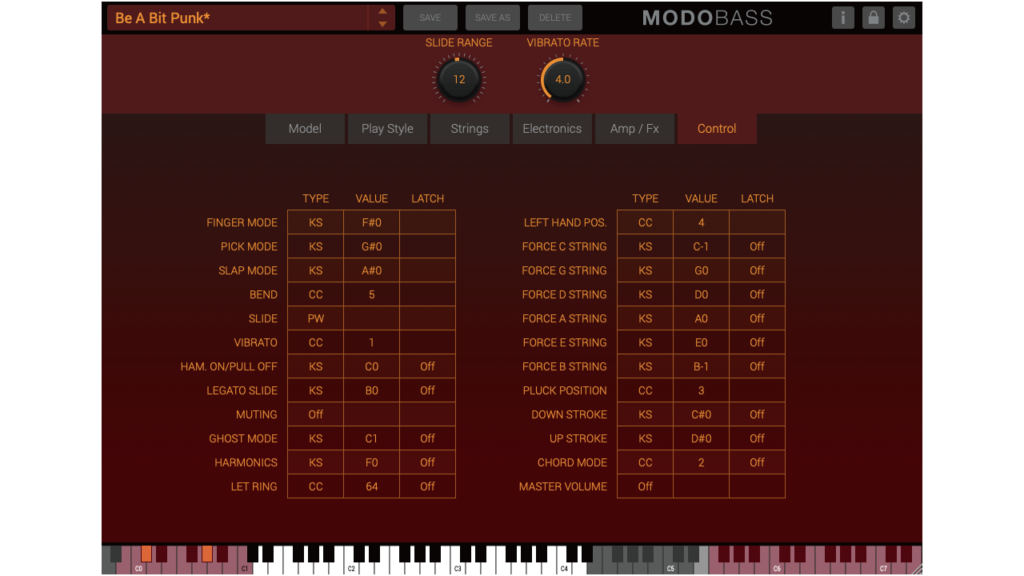 Use "Control" to assign the playing method to MIDI such as keys. It is possible to make the sound more realistic by making MIDI that mixes different playing methods.
Basically, it is convenient to set TYPE to Key Switch (KS) and set it to a key that is not used. It is also possible to set the key entered in "Learn". In addition, it can be set to Control Change, Pitch Wheel, and Aftertouch.
VALUE is the place where the key is set, and LATCH sets the switching of On and Off.
7. Spectrasonics "Trilian" vs IK Multimedia "MODO BASS"
Both are excellent bass software, so it is difficult to decide which one is better. However, it can be recommended for those who:
MODO BASS
IK Multimedia "MODO BASS" is recommended for those who like band sounds and compose genres that require only electric bass or who want easy-to-use software
Trilian
Spectrasonics "Trilian" is recommended for those who compose genres that require synth bass or wood bass such as electro jazz, or who want a lot of sounds with a limited budget.
---
IK Multimedia MODO BASS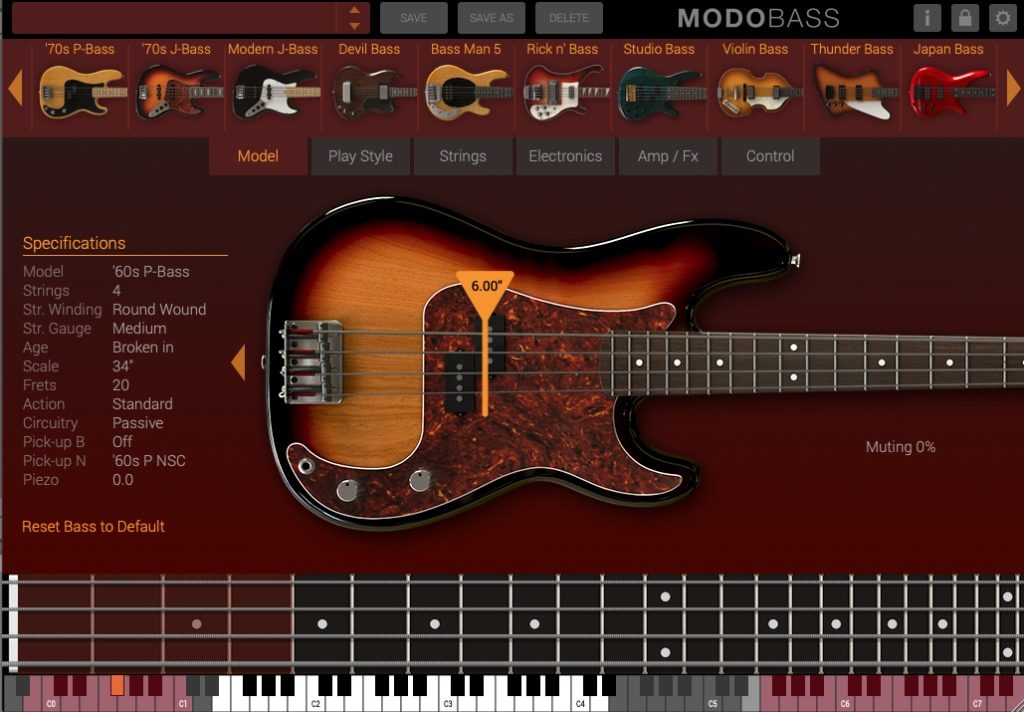 ▶︎IK Multimedia
---
Summary
MODO BASS has a low CPU load and can be used easily.
This software is necessary for those who compose band sounds.
I hope this article is helpful for you.
---
IK Multimedia MODO BASS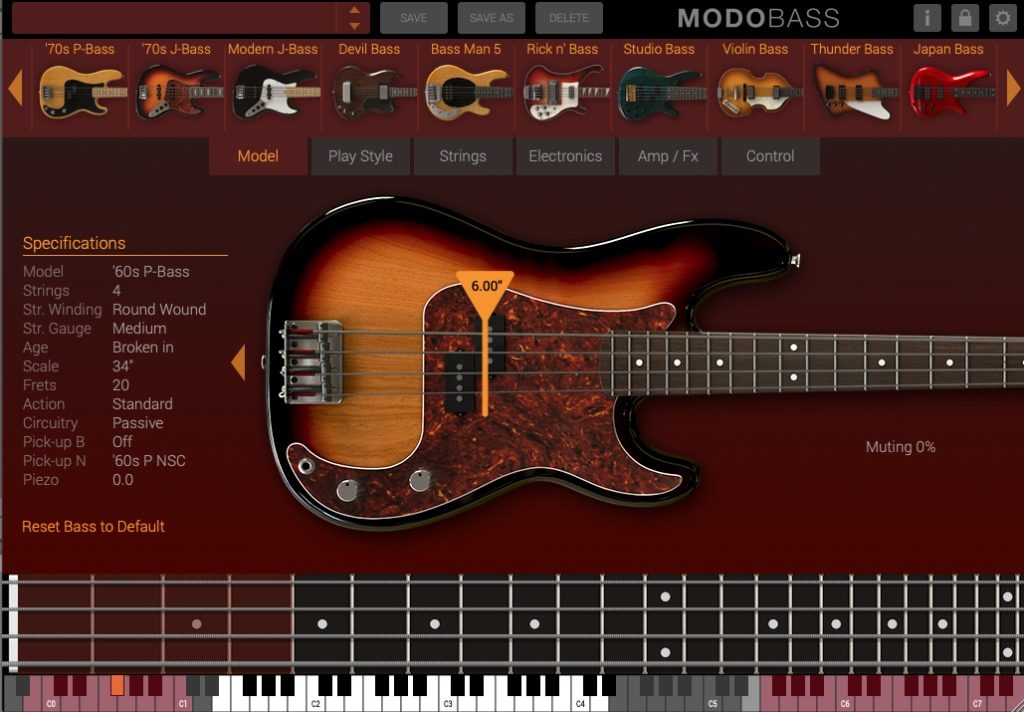 ▶︎IK Multimedia
---