Discover if MODO BASS 2 is the best bass virtual instrument in 2023. Compare it with EZbass and Trilian, and learn about the user experience, upgrade options, and differences between MODO BASS and MODO BASS 2. Our article reviews IK Multimedia's MODO BASS, a classic and well-known bass virtual instrument, which now includes a new free version called MODO BASS CS. Explore our tutorial to learn how to use it and improve your music production. Read on for all the information you need.
1. What is IK Multimedia "MODO BASS 2" ?
MODO BASS is a physical modeling bass virtual instrument developed by IK Multimedia. As a modeling instrument, it allows for highly detailed customization of the bass itself, which sets it apart. With the release of version 2, MODO BASS has added fretless and upright basses, among other updates, including:
Eight new basses, including fretless and upright basses
The release of a free version called MODO BASS CS
A pattern playback feature with a massive collection of bassist performance phrases
Improved playing algorithms
MODO BASS 2 features a total of 22 bass models, including the following:
Fretless Jazz (Fender Jaco Pastorius Jazz Bass): The bass famously played by one of the most well-known electric bass players in history, Jaco Pastorius.
Fretless Bass Man (Pino Palladino Music Man Stingray): The bass Jaco Pastorius first played, known for its fretless tone that's perfect for soul, funk, pop, and new wave genres, as well as expressive bass solos.
Horn Bass (Danelectro Longhorn Bass): Loved for its vintage sound and perfect for rock and roll style.
Punk Bass (Fender Mark Hoppus Jazz Bass): Ideal for punk rock, pop punk, and punk pop genres, and highly regarded for its aggressive sound.
Fusion J-Bass (Fender Marcus Miller Jazz Bass): Perfect for fusion, jazz, and hard slap bass styles.
Aluminum (Noah Paraffina Bass): Characterized by strong harmonics and added sustain.
Upright Studio (Jazz Upright Bass): A versatile contrabass ideal for pizzicato style used in jazz, pop, and rock ballads.
Rockabilly (Rockabilly Upright Bass): With nylon strings, it is perfect for typical slap bass style in rockabilly.
Imperial Bass (Fodera Custom 6-string): A well-balanced instrument with punch and sustain, allowing for perfect tones with its active circuit.
Metal Bass (Dingwall Combustion NG2 5-string): Ideal for modern progressive metal genres.
60's P-Bass (Fender Precision Bass, Alder body): Featuring deep, rounded bass sound and aggressive picking tone, it is suitable for rock, jazz, and funk.
70's P-Bass (Ash body): Its iconic sustain allows for any type of rock genre.
70's J-Bass (Fender Jazz Bass, Alder body): Appeared in the 1970s to meet the needs of disco and funk bass players, and is generally an ideal model for rhythm-focused bass styles.
Modern J-Bass (Alder body): Its sound quality and ease of use are maintained, and its more focused and compressed sound than the older model is suitable for modern mixes.
Devil Bass (Gibson EB-0): With the popular look of the most popular guitar in the rock scene, it adds very distinctive and unique tones.
Bass Man 5 (Music Man StingRay 5-string): A versatile instrument that can handle any genre from disco to heavy metal, thanks to its active circuit with a 2-band EQ.
Rick n' Bass (Rickenbacker 4003): A perfect model for the rock and roll scene that maintains a natural and clear sound even with hard picking.
Studio Bass (Yamaha TRB5P): A popular bass seen in many studios from the 1990s to the 2000s due to its ability to handle any musical situation.
Violin Bass (Hofner Violin): It reproduces the typical sound heard in 1960s pop.
Thunder Bass (Gibson Thunderbird): Known for its vast low end and very long sustain, it is highly regarded in rock music.
Japan Bass (Ibanez Soundgear): Featuring clear and high-output pickups, it is lightweight and easy to play, making it an ideal model for bass players at any level.
Flame Bass (Warwick Streamer): An all-around instrument that supports the band with its expansive low end and sparkling high end, equipped with P/J pickups.
Available as a DAW extension VST 2, VST 3, AU, and AAX plug-ins, but can also be launched as a stand-alone application.
Development company
IK Multimedia
Price(list price)
€299.99
Crossgrade €119.99
Upgrade €149.99
MODO BASS SE €149.99
MODO BASS CS free
MODO BASS 2 + MODO DRUM 1.5 €399.99
MODO BASS 2 + MODO DRUM 1.5 Crossgrade €299.99
MODO BASS 2 + MODO DRUM 1.5 Upgrade €199.99
Main Specifications
22 types of electric bass software
The crossgrade is available to registered users of IK Multimedia products who have spent €99.99 or more. The MODO BASS 2 upgrade is available to those who have purchased the paid version of MODO BASS. The MODO BASS 2 + MODO DRUM 1.5 upgrade is available to those who have purchased the paid version of either MODO BASS or MODO DRUM.
---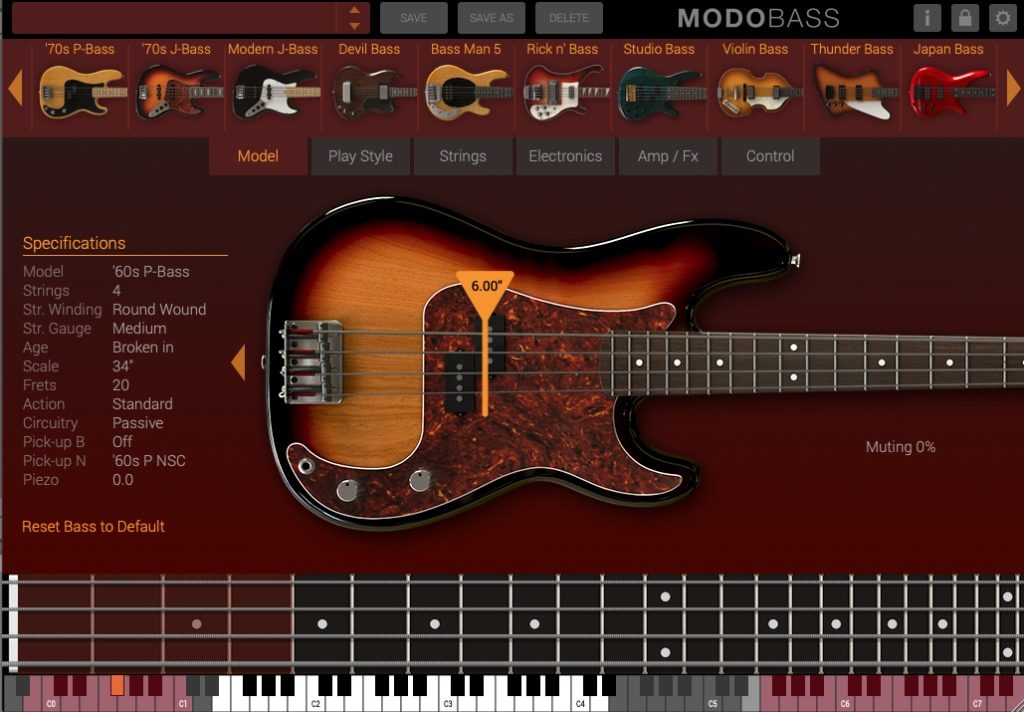 ---
Click here for an article about bass vst plugins.
2. Difference between MODO BASS 2 full version, SE, and CS
MODO BASS 2 comes in three versions:
MODO BASS 2
Number of models: 22
Function restrictions: None
Price: 299.99 euros
MODO BASS 2 SE
Number of models: 4 ('60s P-Bass, '70s P-Bass, '70s J-Bass, Punk Bass)
Function restrictions: None
Price: 149.99 euros
MODO BASS 2 CS
Number of models: 1 ('60s P-Bass)
Function restrictions: No fretless feature / Limited number of patterns
Price: Free
3. Difference between sampling and physical modeling
When you hear the term "physical modeling" sound source, you may wonder what it means and how it differs from sampling sound sources. Sampling sound sources create sounds based on pre-recorded samples, while physical modeling sound sources simulate the sound characteristics virtually to create sounds. Products such as IK Multimedia's "MODO DRUM," MODARTT's "Pianoteq," and AAS (Applied Acoustics Systems) are available as physical modeling sound sources. The advantage of these modeling sound sources is that they allow for detailed parameter setting to change the sound character virtually, and they can save storage space compared to sampling sound sources. AAS is a manufacturer that specializes in physical modeling and has released many products that utilize modeling technology.
Benefits of introducing MODO BASS 2
Here are two benefits that we felt when using MODO BASS 2. Please refer to them when considering introduction.
Many settings that are impossible with other bass virtual instruments!
MODO BASS has a lot of parameters that can be customized for the bass itself, making you wonder, "Can I adjust this much?" You can do not only impossible settings with other sample bass sound sources, but also difficult customization that is possible only with a real bass, such as:
Fretless setting
Changing the number of strings from 4 to 6
Adjusting the playing position
Changing the pickup and adjusting the position
Adjusting the type and quality of the strings
Easy to use even for beginners
Compared to another classic bass softwares, Spectrasonics' "Trilian,"MODO BASS 2 has an overall impression of being easy to use even for beginners. It is easy to set up bass playing techniques, articulations such as slides and glissandi, and CPU load is low, making it user-friendly for beginners. Furthermore, MODO BASS 2 is equipped with MIDI patterns, so you can not only use them as they are, but also study how to use articulations.
MODO BASS 2 vs Trilian vs EZbass
While MODO BASS 2 is highly recommended as a first bass plugin, it's important to be aware of other rival products before using it. MODO BASS 2 has added new wood and fretless bass models, but rival product Spectrasonics "Trilian" is a fully comprehensive bass plugin that covers synth and acoustic bass as well. Trilian may have some usability issues, but it offers a synth-like sound creation capability. Additionally, Toontrack "EZbass" is the best for editing playing techniques, even though it may have limited sound and sound creation capabilities.
In summary,
MODO BASS is a plugin that allows you to customize electric and wood basses in detail.
Trilian is a plugin that covers all types of basses from synth to acoustic.
EZbass is a plugin that allows for detailed editing of playing techniques.
Installation and activation process of IK Multimedia products
In August 2020, IK Product Manager was released, making the installation and activation process much easier. It can be completed in 4 simple steps:
Create an account with IK Multimedia.
Download and launch IK Product Manager and login.
Enter the serial number in "Register Product" on the IK Product Manager.
Authorize and install the product.
6. How to use
Now, we will explain how to use MODO BASS 2.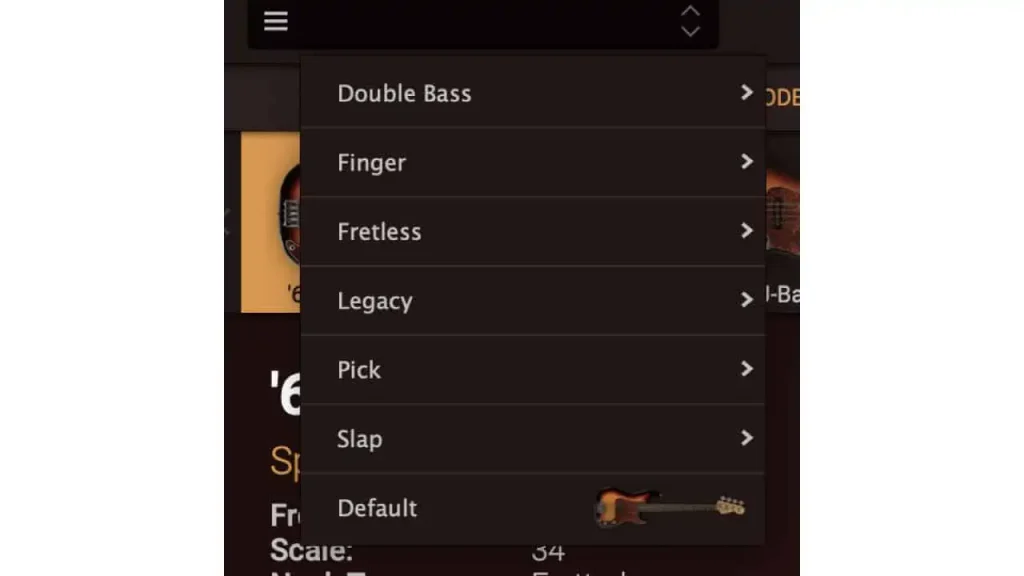 You can select a preset from the top left.
Double Bass
Finger
Fretless
Legacy
Pick
Slap
Select one of the six styles or Default preset.

The keyboard at the bottom displays the bass fretboard or piano keys. You can select which one to display from the button in the bottom left.
MODO BASS 2 is divided into seven pages from the top.
MODEL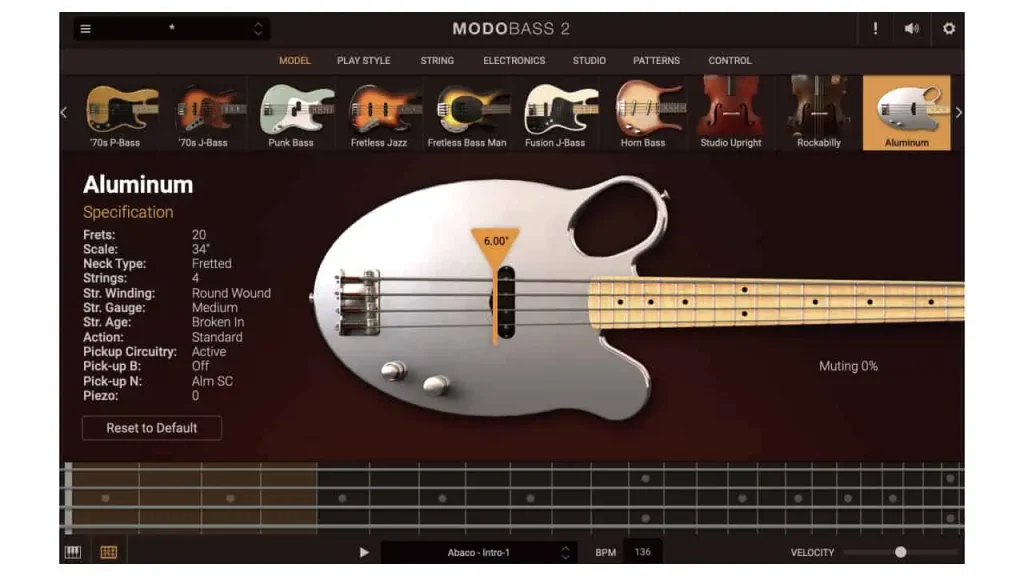 You can select one of the 22 bass models that have been reproduced using MODO BASS's physical modeling technology.
When you move the orange vertical line, the sound changes at the position where you actually play, just like playing a real bass.
PLAY STYLE
In this panel, you can select the bass playing method.
FINGER: Finger style
PICK: Pick style
SLAP: Slap style
When you select one, parameters related to the style are also loaded. For the double bass, the playing styles are PIZZICATO and SLAP.
For FINGER style

STROKE: You can select one of three playing methods: INDEX, MIDDLE, or ALT. (alternate).
TOUCH: You can select one of three touch types: soft, normal, or hard.
For PICK style

STROKE: You can select one of three playing methods: ALT. (alternate), DOWN, or UP.
SCRATCH: You can set the pick to either normal or hard.
For SLAP style

STROKE: You can select one of three playing methods: AUTO pull (automatically pull from slap), SLAP, or PULL. If you select AUTO, pull is always triggered when a certain
velocity is set at or above THRESHOLD.
FINGERING
You can select from three different left-hand movements (the hand that frets the strings).
First Position: plays the first 5 frets on the bass neck.
Easy: a fixed movement that results from studying the playing methods of the top 100 bass riffs and bassists.
Near: a dynamic movement that searches for the note closest to the last one played.
MUTING: using the palm or side of the hand to dampen the strings during play, cutting sustain and harmonic content of each note played. You can adjust the amount of muting.
LET RING: playing the strings without stopping them, allowing natural sustain.
OPEN STRING: allows playing of open strings.
DETACH NOISE: adjusts the amount of noise generated by the hand lifting off or pressing down on the frets.
SLIDE NOISE: adjusts the amount of noise generated by sliding the fingers along the frets.
STRINGS

You can make settings related to the type of strings and the bass neck.
FINGERBOARD (electric bass only): choose between fretted and fretless.
STRINGS (electric bass only): select between 4 and 6 strings.
DROP (electric bass only): tune the lowest string down one tone from E to D, or from B to A for 5 or 6 strings.
ACTION: sets the distance between the strings and neck, changing the sound of fret noise. Choose Low, Medium, or High for electric bass, and Low or Medium for double bass.
TYPE: selects the structure of the strings, ranging from standard round-wound to classic flat-wound for electric bass, and a choice between steel and nylon strings for double bass.
GAUGE: selects the thickness of the strings, which affects tone and sustain. Choose Light, Medium, or Heavy for electric bass, and Medium or Heavy for double bass.
AGE: selects the degree of use affecting tone and sustain. Choose Old, New, or Broken In for standard strings.
A4 REFERENCE: sets the reference frequency.
ELECTRONICS

Adjustments can be made to the electronics, such as the pickups.
BRIDGE/NECK: choose between two positions of pickups and set the relative volume. 24 pickup models are available. The position of the pickups can be freely adjusted by dragging.

CIRCUIT: select the operation of the passive or active electronic system. With Active, you can adjust the BASS/MIDDLE/TREBLE EQ.
TONE: sets the sound of the passive circuit.
PIEZO: adjusts the volume of the piezo pickup. The piezo pickup can be mixed with the standard pickup for a highly customizable sound.
MICS

This panel is for the double bass only. Adjust the parameters of the microphone used to capture the double bass.
MIC: select the type of microphone placed on the double bass.
VOLUME: adjust the volume of the close microphone.
X/Y/DISTANCE: these parameters are used to set the position of the microphone on the double bass. X is for horizontal direction, Y is for vertical direction, and DISTANCE adjusts the distance from the instrument.
PIEZO: adjusts the volume of the piezo microphone.
ROOM: adjust the volume of the room microphone.
WIDTH: adjust the width of the room microphone.
The microphones can also be directly dragged and changed on the GUI.
MICS: adjust the master volume of all microphones, including close microphone, piezo microphone, and room microphone.
STOMP OUT: adjust the volume of the direct signal sent to the amp in the STUDIO panel after the pedalboard.
AMP: adjust the volume of the amp in the STUDIO panel.
STUDIO
This is a studio panel equipped with 2 amps and 4 compact effects. When you click on an amp or effect, the related parameters are displayed on the top tab and can be adjusted.
There are two types of amps:
Solid State Amp: a modern and punchy sound.
Tube Amp: a vintage and fat sound.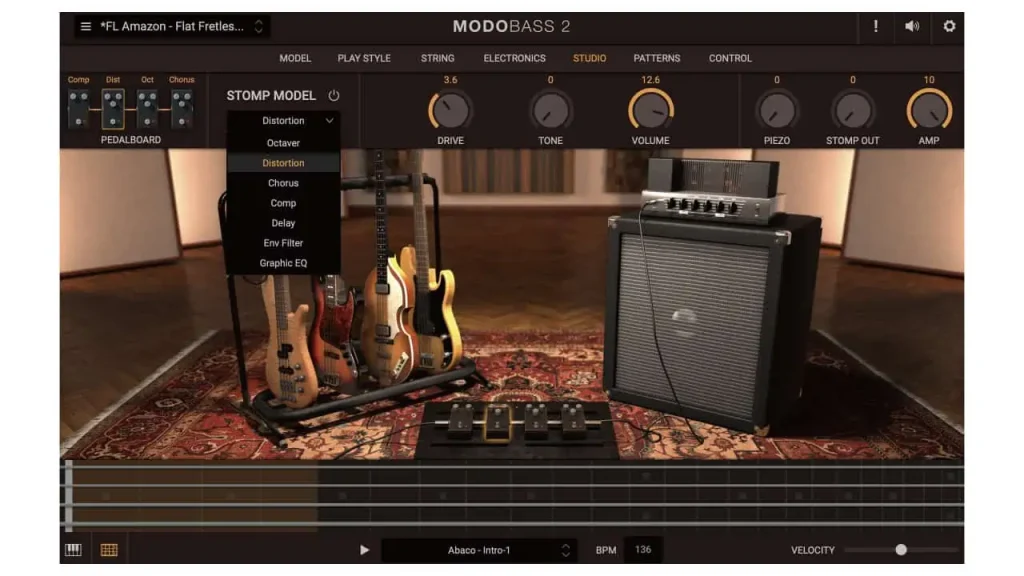 You can choose from the following 8 effects:
Octaver
Distortion
Chorus
Comp
Delay
Env Filter
Graphic EQ
MICS (Double Bass only): adjust the master volume of all mics. Linked to the parameters in MICS.
PIEZO (Electric Bass only): adjust the piezo signal.
STOMP OUT: adjust the volume of the direct signal captured after the pedalboard and before the amp.
AMP: adjust the volume of the amp.
PATTERNS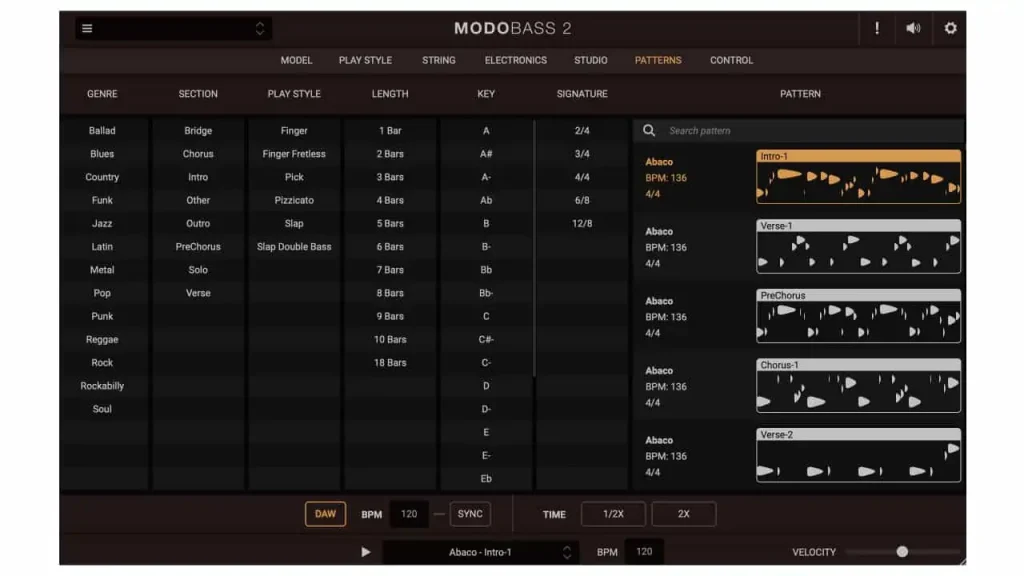 In MODO BASS 2, you can find over 1,000 MIDI-based patterns organized by genre, section, play style, length, key, and signature.
By default, the pattern clip is played at the tempo displayed next to it. If you want to play the pattern at a specific tempo, enable SYNC at the bottom and adjust the BPM. If you use it as a plugin, you can synchronize it with the DAW button. You can also double or halve the tempo.
The MIDI pattern selected on the right side can be used by dragging and dropping it into your DAW.
Those made for double bass are named DB, while those made for fretless are named FL.
CONTROL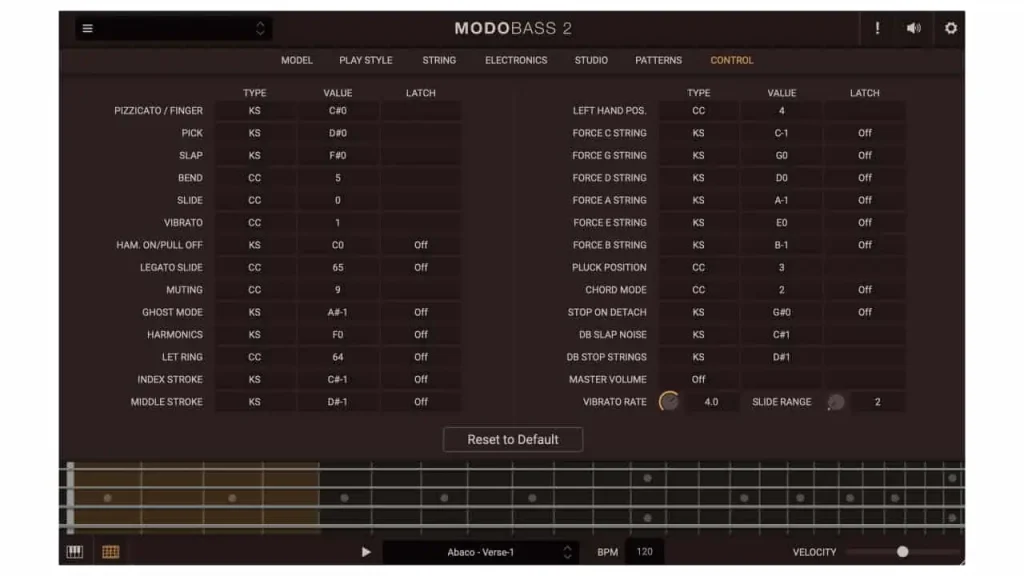 You can set up MIDI controls, pitch wheels, key switches, and other MIDI controllers for the most convenient operation.
TYPE: assign controls by selecting from the pop-up menu.
VALUE: set the value of key switches or MIDI control changes.
LATCH: set the LATCH mode to keep the specified control continuously on.
SLIDE: control the slide of the current note. The range can be adjusted at SLIDE RANGE in the lower right corner.
VIBRATO: control the amount of vibrato of the current note. The range can be adjusted at VIBRATO RANGE in the lower right corner.
HAM. ON/PULL OFF: activate hammer-on/pull-off articulation.
LEGATO SLIDE: when turned on, the slide is also activated during legato playing. In this case, the speed of the slide follows the velocity of the target note. The higher the velocity, the faster the slide speed.
MUTING: adjust the amount of right-hand palm muting.
GHOST MODE: perform ghost note articulation.
HARMONICS: apply harmonic articulation.
LET RING: turn on the LET RING function.
Index/Down/Slap: in fingerstyle, use the index finger; in pick style, use the downstroke; in slap style, force the slap to be executed.
Middle/Up/Pull: in fingerstyle, use the middle finger; in pick style, use the upstroke; in slap style, force the pull to be executed.
LEFT HAND POSITION: control the position of the left hand on the neck.
FORCE ◯ STRING: forcibly use the relevant string.
PLUCK POSITION: control the PLUCK position in the selected playing style.
CHORD MODE: activate the chord mode, which allows multiple notes to be played simultaneously.
STOP ON DETACH: introduce a stop-hand sound when a MIDI note off is detected.
DB SNAP NOISE: when using the double bass in slap mode, trigger the noise caused by hitting the neck with your hand.
DB STOP STRINGS: when using the double bass in slap mode, trigger the played strings to create the typical percussive sound of rockabilly music and stop the played notes by hitting a part of the neck with your hand.
MASTER VOLUME: You can adjust the volume of the master output.
---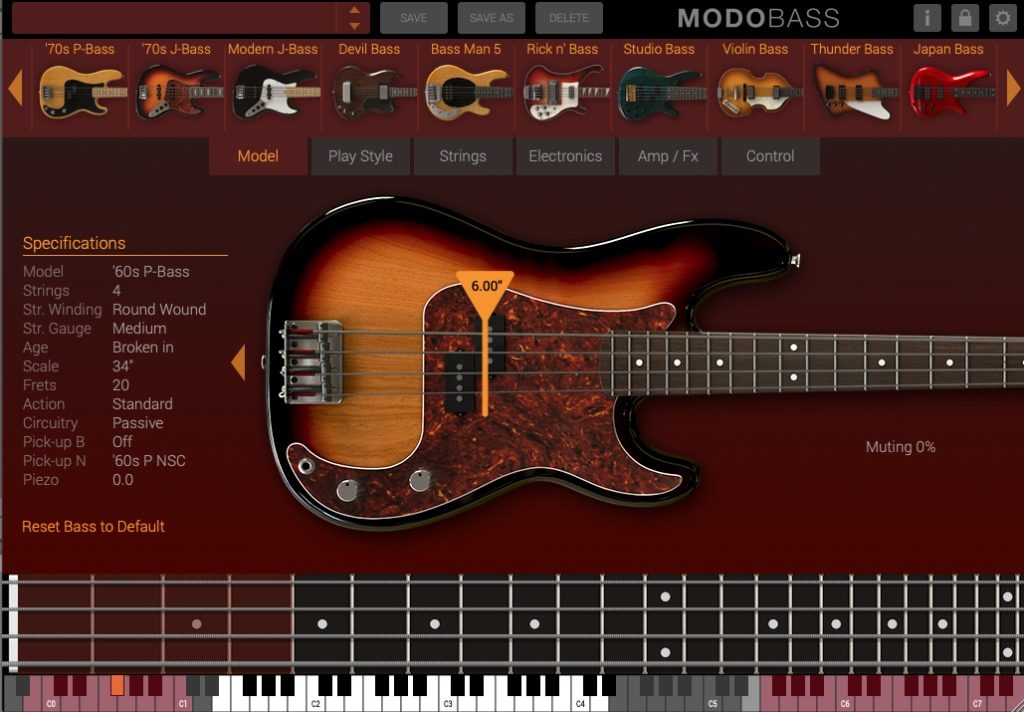 ---
Summary
MODO BASS 2 is a powerful virtual bass instrument that offers over 1000 MIDI-based patterns, MIDI control options, and various articulations to create lifelike bass performances. Its intuitive interface, easy-to-use controls, and a wide variety of features make it an essential tool for bass players and producers. Whether you're a beginner or a professional, MODO BASS 2 is the ultimate solution for crafting authentic and expressive bass tracks in any genre.
---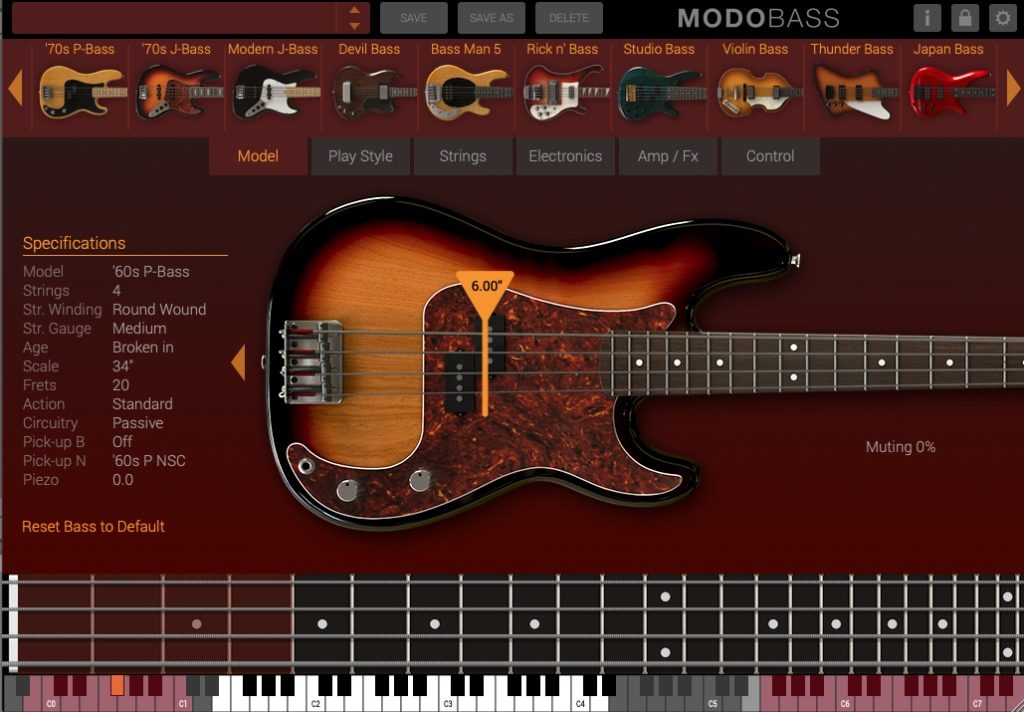 ---