MODO DRUM is a drum virtul instrument that was released in August 2019. In February 2021, three new drum kits were added, and a free CS version was also released.
In this review, we will explain the features of MODO DRUM and how it differs from other drum virtul instruments. We will also provide instructions on how to use it.
For a quick comparison and sound test of major acoustic drum virtul instruments, please refer to this video.
What is IK Multimedia's "MODO DRUM 1.5"?
IK Multimedia's physical modeling sound sources are well-known, with "MODOBASS" being a popular source for bass sounds that stands alongside Trilian.
Now, IK Multimedia has released the first-ever drum modeling sound source.
MODO DRUM can be used as a VST, VST3, AU, or AAX plugin for composition software DAW, or it can be launched as a standalone program.
Update 1.5
The full version and SE version now include three new drum kits:
Silver: A versatile 6-piece vintage maple kit suitable for all-round use
Brit Custom: A 4-piece birch kit with a warm and rich sound, perfect for indie pop and rock styles
Metal: An 8-piece kit that is ideal for modern and aggressive styles
Furthermore, a new free CS version has been added, and SE and CS now allow you to purchase individual drum kits.
Differences between MODO DRUM SE and CS
Version
MODO DRUM
MODO DRUM SE
MODO DRUM CS
Price (MSRP)
299.99 Euros
149.99 Euros
Free
Drum Kits
Black Oyster
Djentleman
Jazzy
Extreme
Reference
Bubinga
Grungy
Plexi
Studio
Rock Custom
Silver
Brit Custom
Metal
Studio
Jazzy
Silver
Brit Custom
Metal
Studio
IK Multimedia's MODO DRUM now comes in three versions: the full version, SE, and CS. The full version offers a choice of 13 drum kits, while SE has five kits, and the free CS version offers only the Studio kit. However, all versions have the same features and functions without limitations.
Here are MODO DRUM 1.5's related products:
IK Multimedia "MODO DRUM 1.5"
IK Multimedia "MODO DRUM 1.5 Crossgrade"
IK Multimedia "MODO DRUM 1.5 Upgrade"
IK Multimedia "MODO DRUM 1.5 SE"
IK Multimedia "MODO BASS 2 + MODO DRUM 1.5"
IK Multimedia "MODO BASS 2 + MODO DRUM 1.5 Crossgrade"
IK Multimedia "MODO BASS 2 + MODO DRUM 1.5 Upgrade"
[Free] IK Multimedia "MODO DRUM 1.5 CS"
Note that the crossgrade is available only to IK Multimedia registered users who have purchased products worth 99.99 Euros or more. The MODO DRUM 1.5 upgrade is for those who already own the paid version of MODO DRUM, and the MODO BASS 2 + MODO DRUM 1.5 upgrade is for those who already own the paid version of MODO BASS or MODO DRUM.
---
IK Multimedia MODO DRUM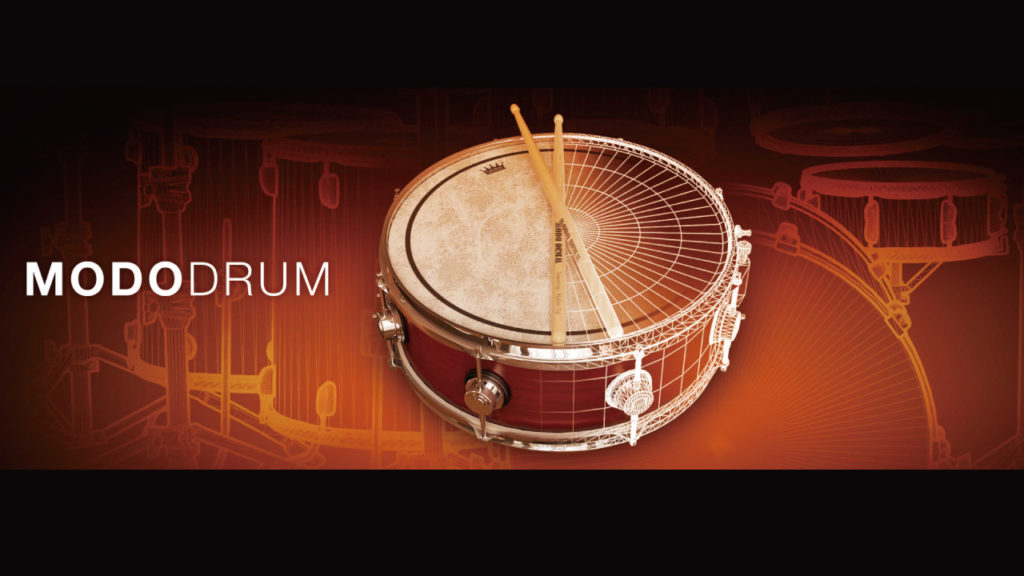 ▶︎Best Service
---
Differences Between Sample-Based and Physical Modeling Sound Sources
Some people may wonder about the differences between physical modeling sound sources and sample-based sound sources.
Sample-based sound sources use pre-recorded samples as their source to create sounds. Physical modeling sound sources, on the other hand, simulate sounds virtually.
In addition to MODO DRUM, there are other physical modeling sound source products available, including:
IK Multimedia's "MODO BASS" for bass sounds
MODARTT's "Pianoteq" for piano sounds
AAS (Applied Acoustics Systems) products
These modeling sound sources have the advantage of allowing for detailed parameter settings for virtual sound manipulation. They also have the benefit of saving storage space compared to sample-based sound sources.
Benefits
I believe there are mainly two advantages of using IK Multimedia's "MODO DRUM".
Parameters that allow fine tuning
A wide range of drum sets that covers various genres
Parameters that allow fine tuning
Not only can you fine-tune the drum set as a whole, but you can also break it down into individual components such as the shell, head, diameter, and depth to create highly detailed sounds. You can also customize your sticks and kick pedals. Additionally, it's possible to control the drummer's playing style, including the accuracy of their hitting position and the looseness of their playing, to achieve greater realism. This is made possible by being the first physical modeling sound source, and it offers many settings that cannot be found in other drum sound sources. One of the most impressive parameters is the ability to finely control the opening of the hi-hat using MIDI CC. While the hardware appears to be sampled, it's possible to achieve more realistic reproductions of the space between open and closed positions.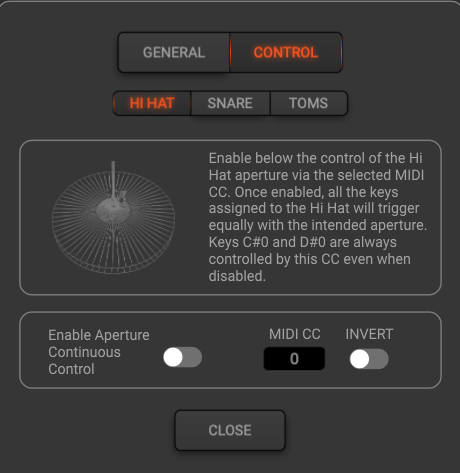 A wide range of drum sets that covers various genres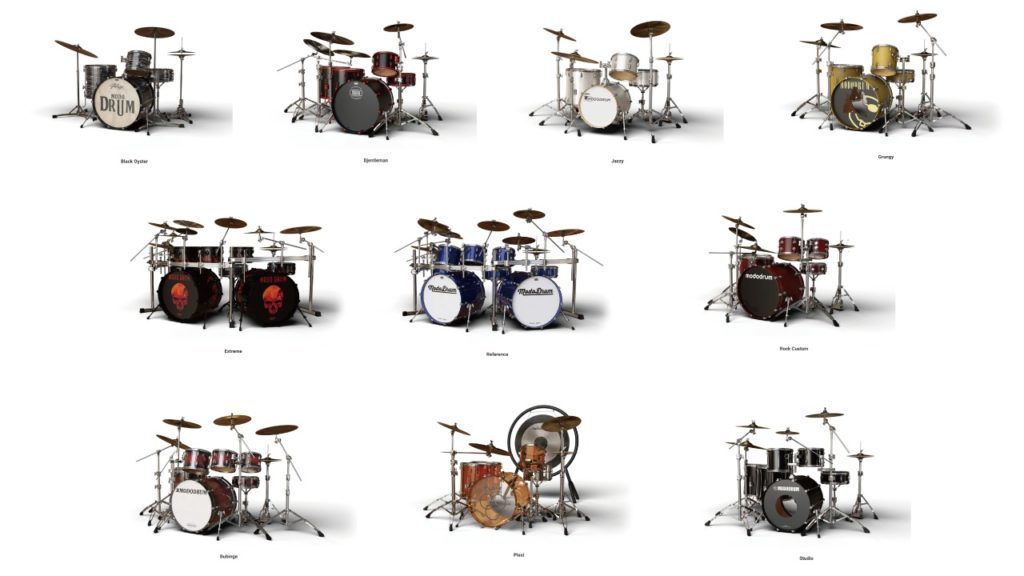 There are 13 different types of drum kits available, including Black Oyster, Djentleman, Jazzy, Extreme, Reference, Bubinga, Grungy, Plexi, Studio, Rock Custom, Silver, NBrit Custom, and Metal. With such a wide variety, ranging from rock and metal to jazz and old-school styles, you're sure to find a drum set that matches any genre. With the 1.5 update, three new kits have been added to provide even more genre coverage. Additionally, the parameters that allow for fine tuning, as previously mentioned, offer a wide range of sound-making options.
Points to be aware of and disadvantages to know before using
However, there are some points to be aware of before using MODO DRUM.
Requires detailed work
High CPU load
Requires detailed work
To achieve a good drum sound that fits your music, you may need to create each drum sound from scratch. The presets have heavy effects and room sounds, which can make them difficult to use as they are. The sound may have a unique thickness, but the snappy sound of the snare may feel forced, or the kick sound may have a synthetic feel. We recommend creating an original drum set by redoing the sound creation for each drum.
High CPU load
MODO DRUM has a high CPU load. It may not be recommended for those who are not confident in their computer specs, although it doesn't render the computer entirely unusable.
Sale Information for MODO DRUM
IK Multimedia products may be available at a discounted price during sales. However, it's worth noting that registered users who own IK Multimedia products with a regular price of 99.99 euros or more (either software or hardware) may be able to obtain them even cheaper through crossgrades. While the sale period may be limited in order to get the best deal, frequent sales are held.
Explanation of How to Use MODO DRUM

In this section, we will explain how to use IK Multimedia's "MODO DRUM". You can select presets from the upper left, and it is mainly divided into six items in the middle top:
MODEL
CUSTOMIZE
PLAY STYLE
ROOM
MIXER
GROOVES
MODEL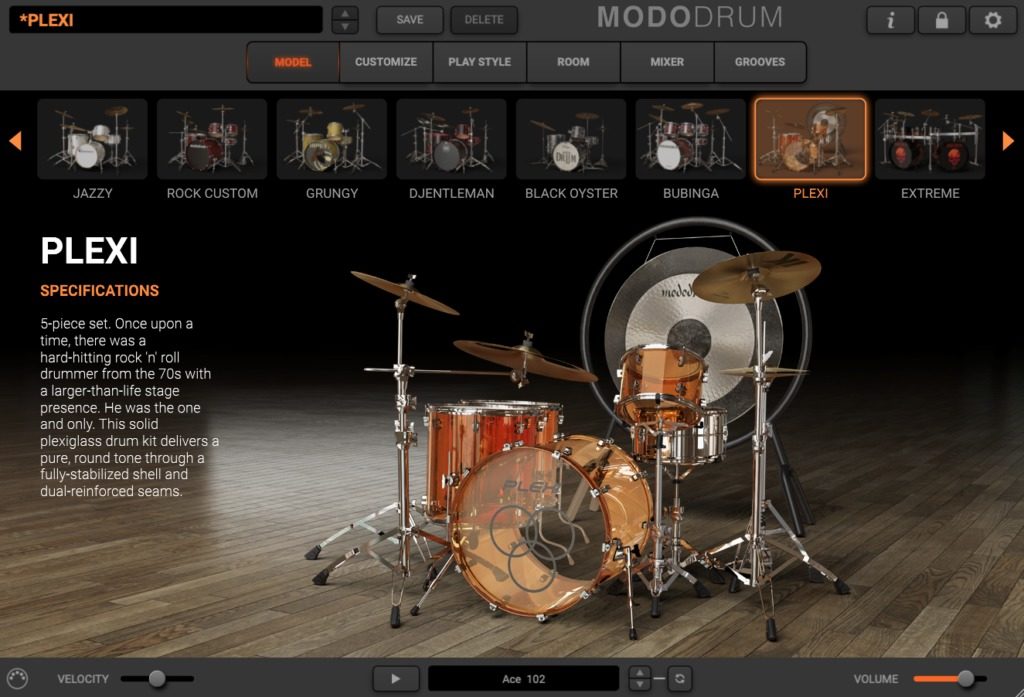 This item allows you to choose a drum set. Here, you can change the drum set as a whole. There are 10 types of drum sets: Black Oyster, Djentleman, Jazzy, Extreme, Reference, Bubinga, Grungy, Plexi, Studio, and Rock Custom.
CUSTOMIZE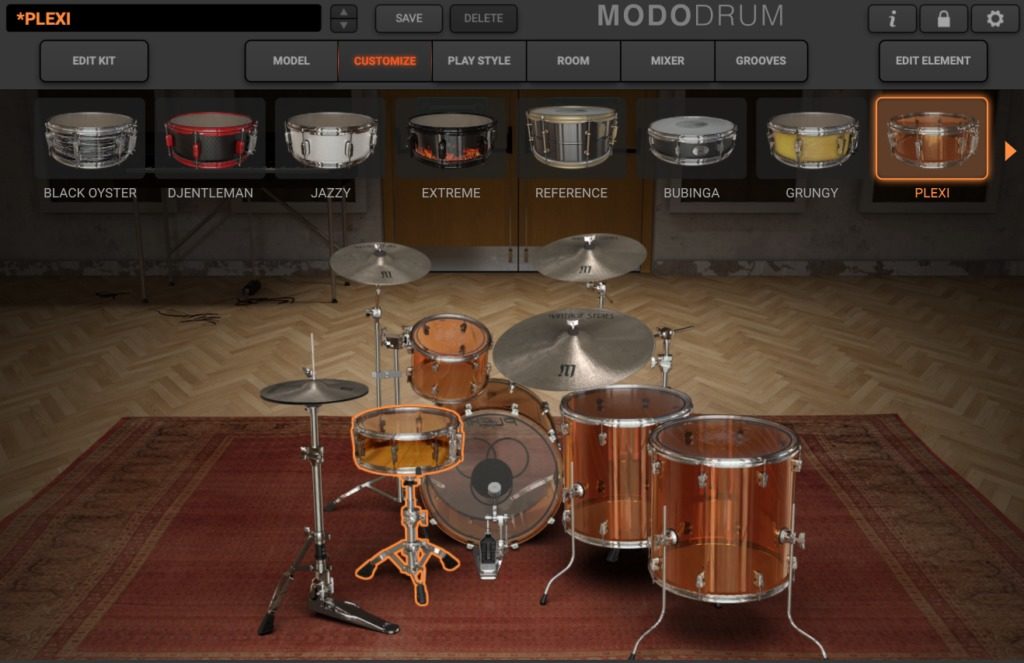 This item allows you to select or customize each drum. When you select a snare or kick drum from the drum set, other available snares and kick drums will be displayed above, and you can change them by selecting them. You can also add new drums to the drum set from "EDIT KIT" in the upper left. To add them to the drum set, right-click and select "Enabled". To remove them, click the "Enabled" checkbox again.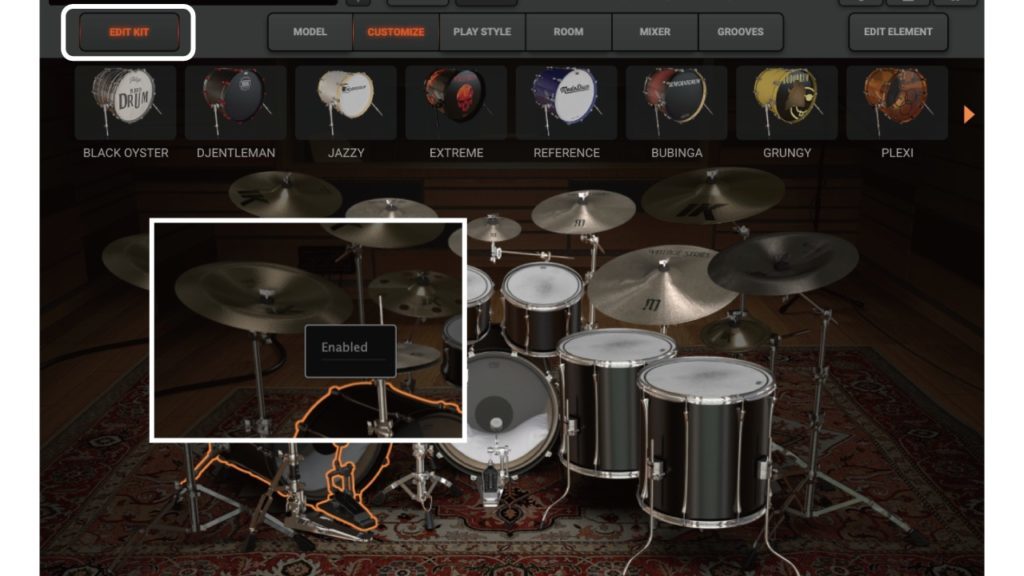 From "EDIT ELEMENT" in the upper right, you can customize each drum in detail.

Kick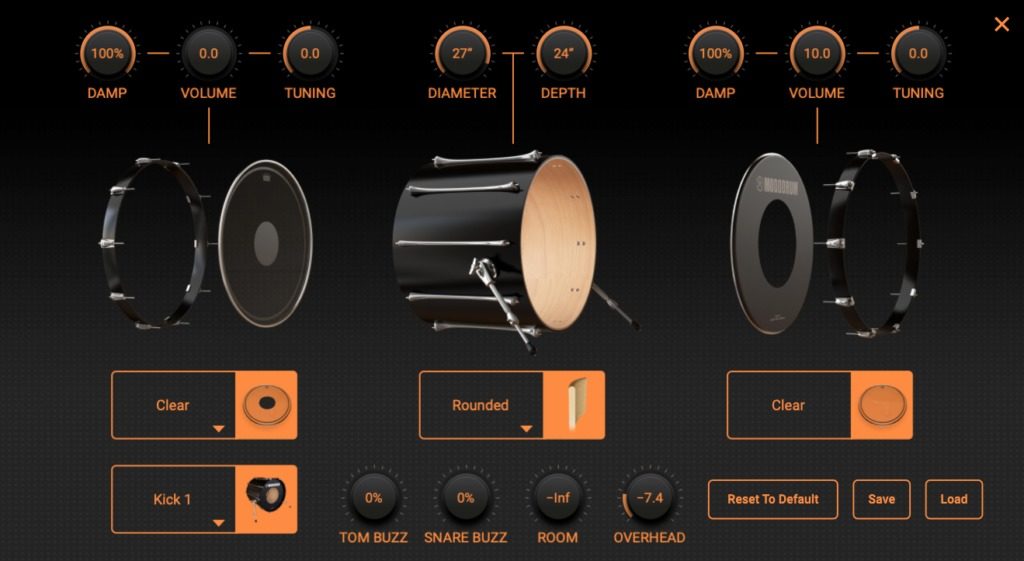 You can adjust the DAMP (length of sound), VOLUME, and TUNING for the inner and outer parts of the kick drum separately. You can choose between Coated and Clear for the inner surface (the part where the kick pedal hits). The diameter and depth can be adjusted with the parameters in the middle. You can also choose from three shell types: Point, Sharp, and Rounded. You can adjust the TOM BUZZ and SNARE BUZZ to control the resonance of the toms and snare, and adjust how much the ROOM and OVERHEAD affect the recording from above.
Tom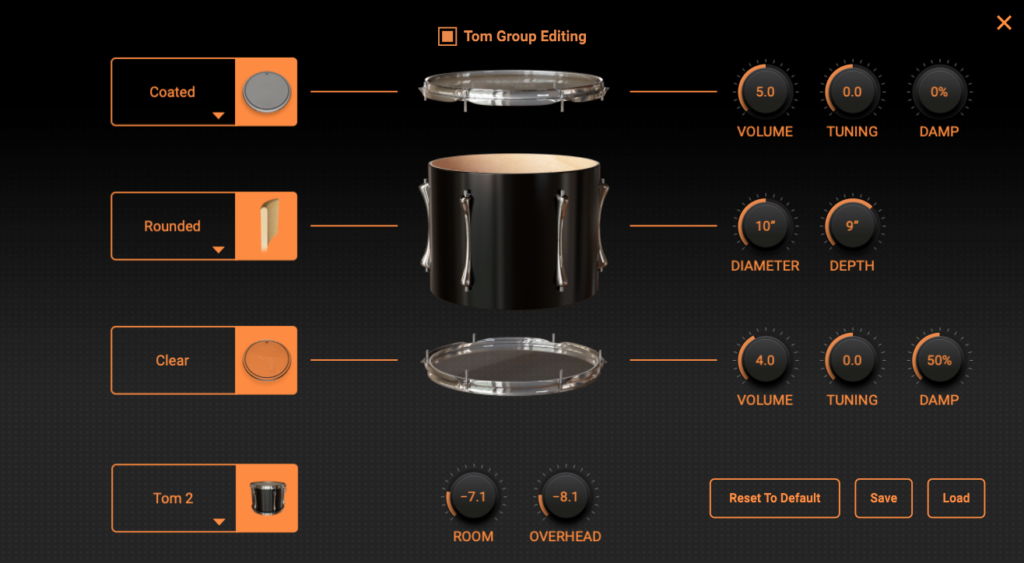 This is basically the same as Kick, but you can set up all the toms at once with Tom Group Editing.
Snare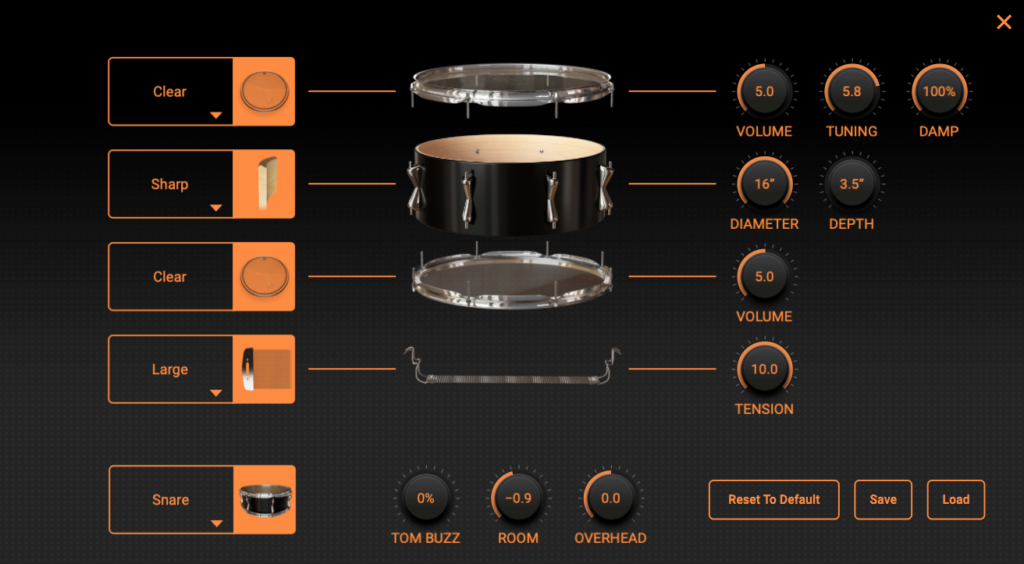 This is basically the same as Kick, but you can control the snare's snappiness with the TENSION setting, and choose between Large and Medium for the snare type.
PLAY STYLE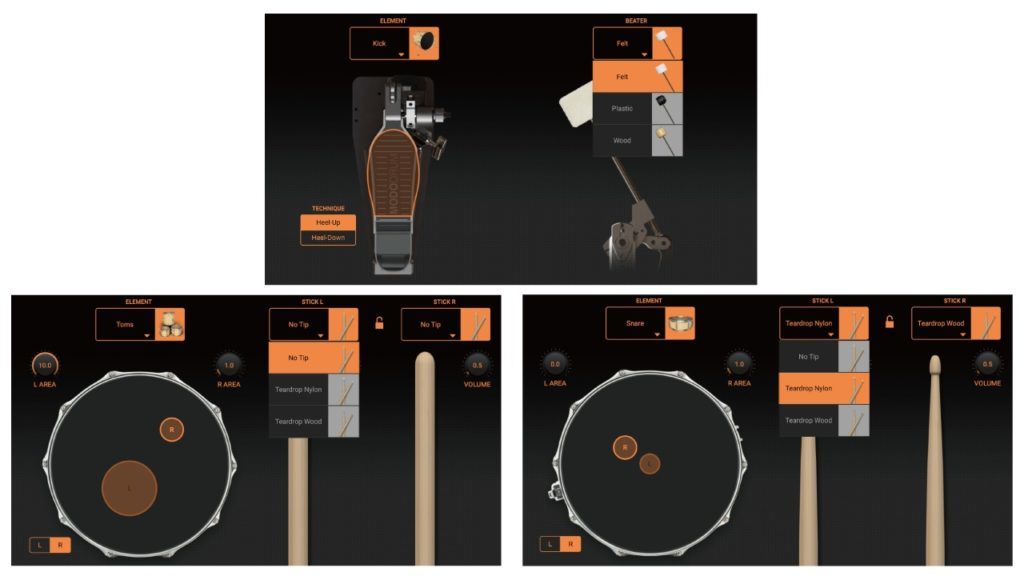 In this item, you can select the left and right hand hitting range and volume for Snare and Toms, the kick pedal type (Heel-Up, Heel-Down), and the stick and kick pedal type. The wider the hitting range of the snare and toms, the more variation in sound you will get. The kick pedal can be Felt, Plastic, or Wood, and the stick can be No Tip, Teardrop Nylon, or Teardrop Wood.
ROOM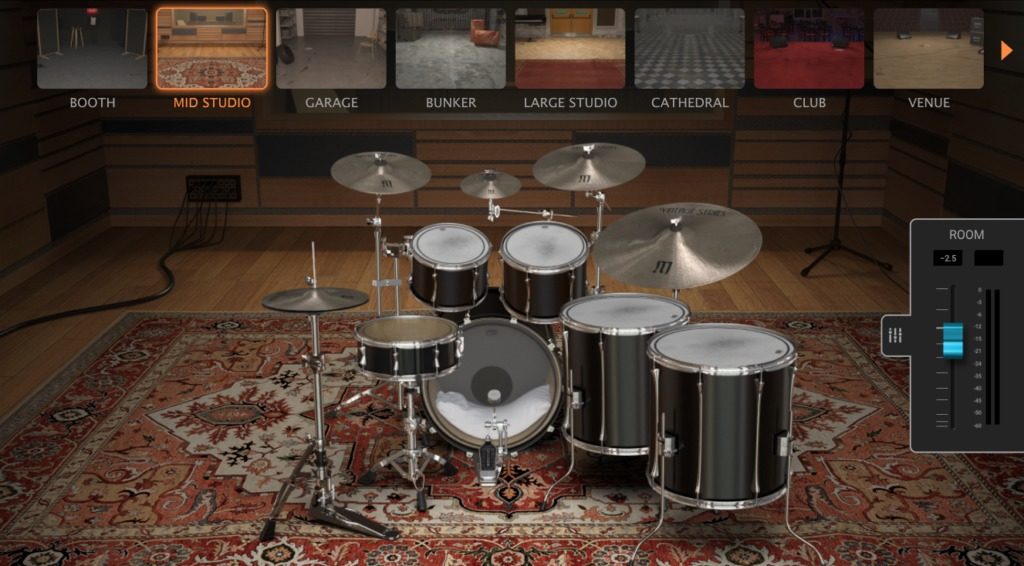 As the name suggests, you can set the room where you recorded the drums. You can adjust the volume of the room's sound from the mixer icon in the upper right center. There are nine room settings:
Booth
Mid Studio
Garage
Bunker
Large Studio
Cathedral
Club
Venue
Warehouse
MIXER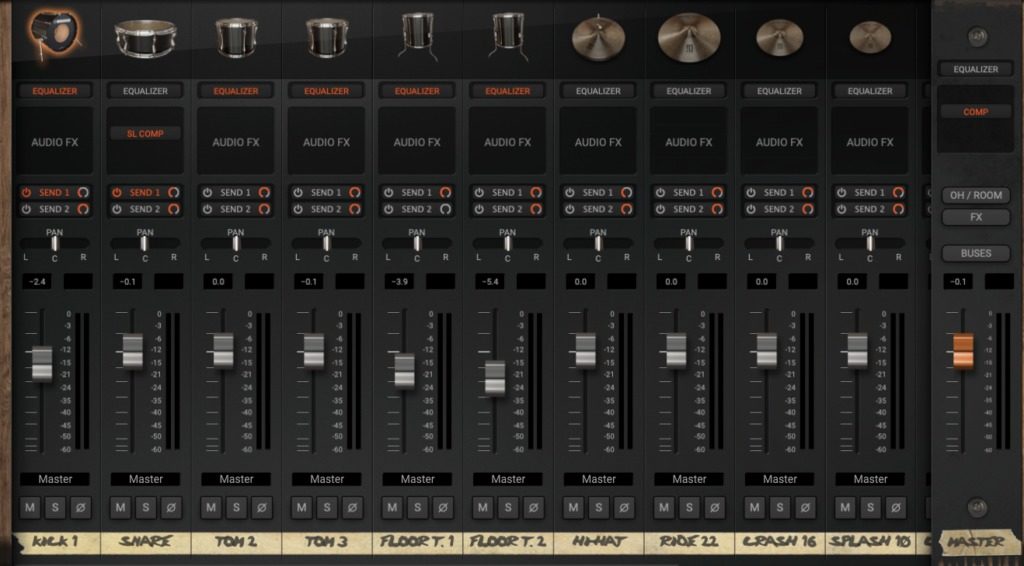 You can adjust the volume, PAN, effects, and FX (SEND1, 2) for each drum. There are 19 effects in total, including popular effects inherited from other IK Multimedia products like T-Racks. 19 Effects:
Compressor
Comp 2A
Comp 76
Gate
Punch
Clipper
Big Pig
Crusher
Distortion
Plate Reverb
Room Reverb
Inverse Reverb
Hall Reverb
Delay
Tape Delay
Phaser
Chorus
Flanger
You can also group tracks by setting Master to Bus at the bottom of each mixer.

When using separate outputs for each drum, you can change the Master to DAW from here, and receive the output on an audio track in the DAW. The method of receiving in the DAW differs depending on the DAW used.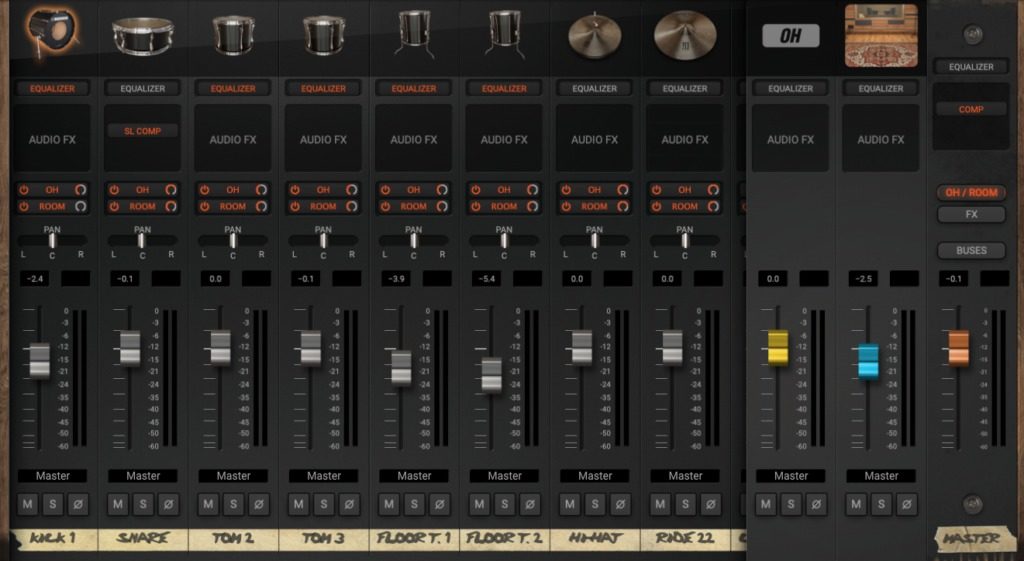 By pressing OH/ROOM on the right side, you can adjust the volume settings for each overhead and room, as well as the overall volume.
GROOVES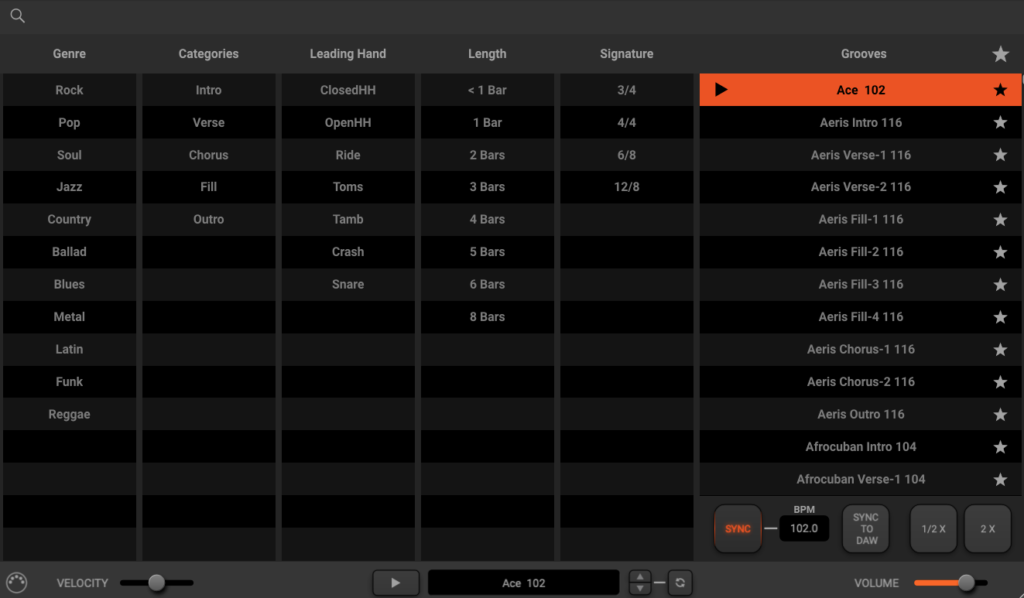 There are over 1,400 MIDI patterns available, which can be finely adjusted by genre, category (intro, chorus, etc.), length, and beats, and can be placed directly into your DAW via drag-and-drop. The patterns are categorized by location in the song, so it's possible to complete an entire drum pattern using only these MIDI patterns. Use the SYNC button on the bottom right to match the BPM on the right to your DAW, and the 1/2x and 2x buttons to halve or double the tempo respectively. Favorite patterns by using the star icon.
Control with MIDI CC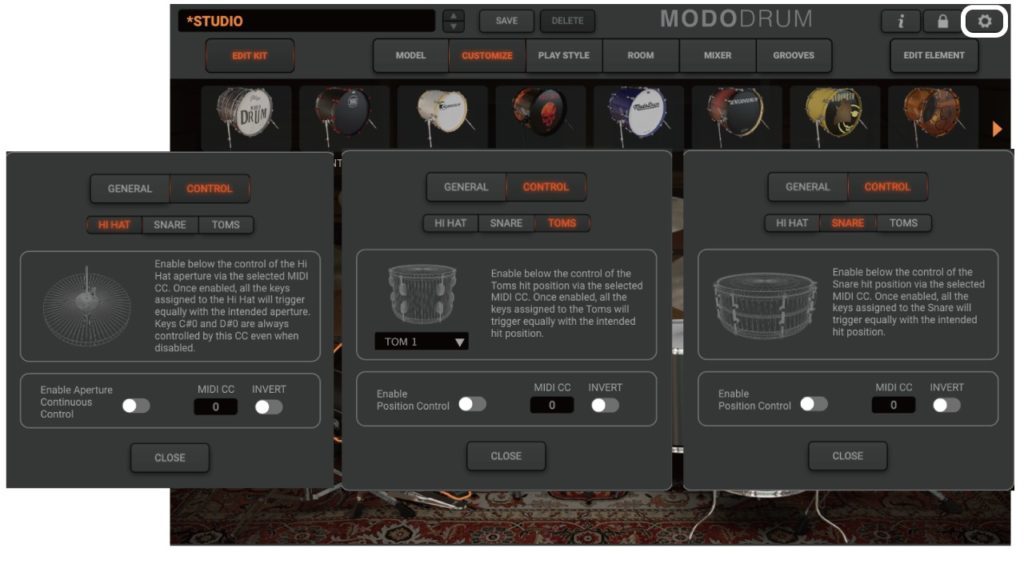 From the settings icon on the top right, you can control the opening of the hi-hat, snare, and tom positions with MIDI CC. Simply enable each one on the left side and enter the MIDI CC number. Then, write MIDI CC automation in your DAW and the pattern will change accordingly. For hi-hats, both open and closed positions are controlled entirely by MIDI CC.
---
IK Multimedia MODO DRUM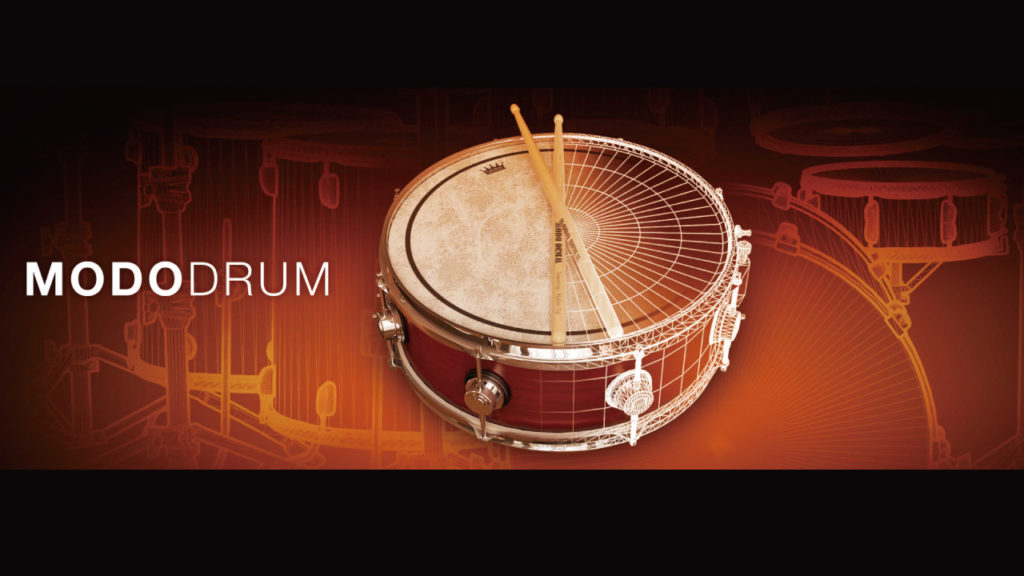 ▶︎Best Service
---
Summary
MODO DRUM is a highly customizable sound source, much like MODO BASS, and I found that it offers a wide range of sound creation possibilities. While it does require some detailed work, I believe it is a user-friendly drum virtual instrument that can be used for any genre. I hope this article serves as a helpful reference for you.
---
IK Multimedia MODO DRUM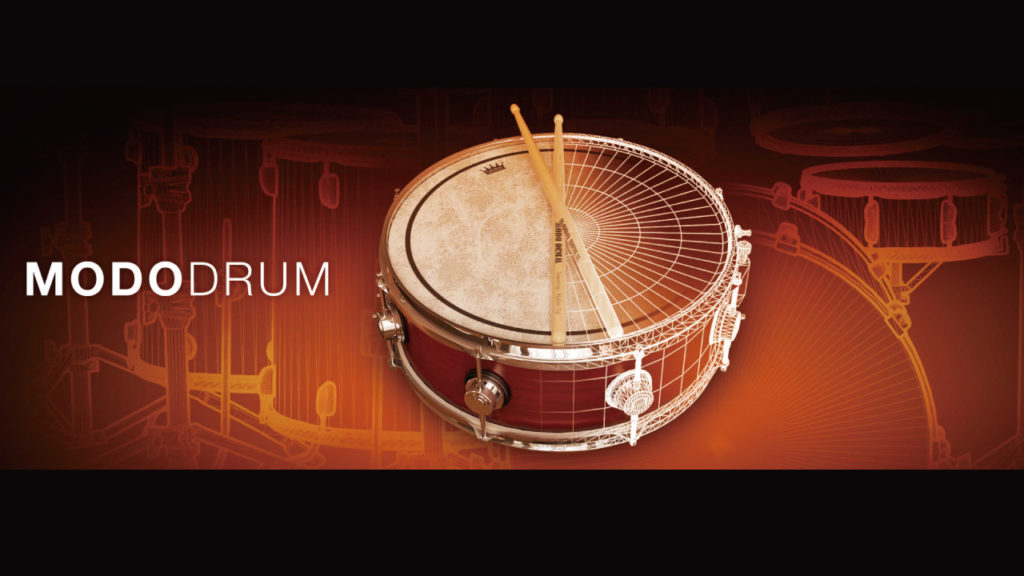 ▶︎Best Service
---