There are many types of bass Instrument Plugins (VST Instruments), so you may be lost.
If you're choosing a bass plugin for the first time, I recommend three: Spectrasonics "Trilian", IK Multimedia "MODO BASS" or Toontrack "EZbass" released in 2021.
This article also introduces more than these three bass plugins.
I also think that some people want to use it for free, so I will also introduce the bass plugin that can be used for free.
Please read the details below;
1. Recommended 3 selections for the first Bass VST Plugin
Unless you can find a plug-in that suits your genre and taste,
Spectrasonics "Trilian"

IK Multimedia "MODO BASS"

Toontrack "EZbass"
For the first bass plugin, I think one of these three is good.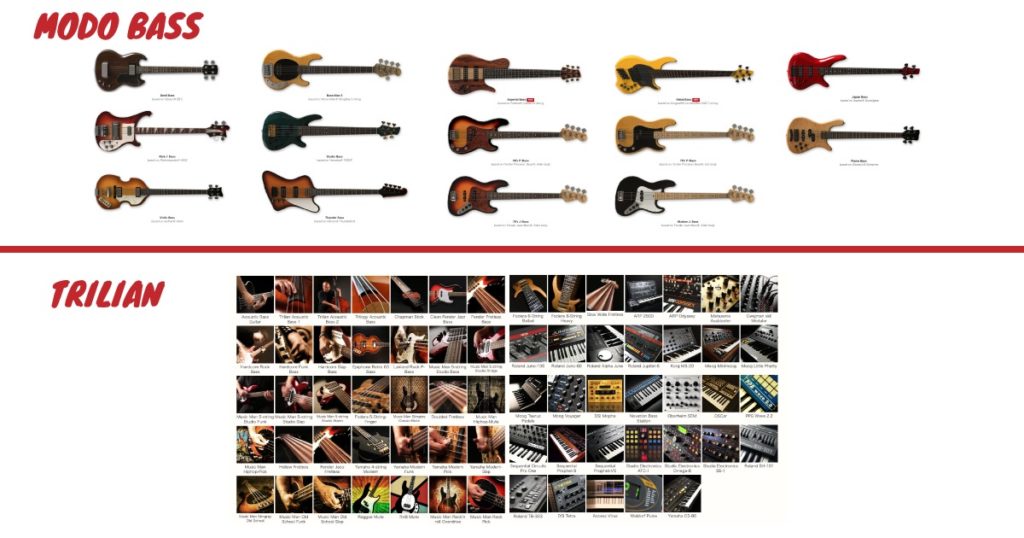 The reason I recommend Trilian and MODO BASS is because of their quality and the large number of models.
There are other electric bass plugins, but they all have a small number of models or a single bass.
There are not many model and high quality bass plugins other than Trilian and MODO BASS.
The types of sounds are as follows.
Trilian: Covers not only electric bass but also synth bass, wood bass and acoustic bass

MODO BASS: Covers 14 types of electric bass only
The other EZbass that I can recommend is a small number with two models compared to these two.
But I recommend it for another reason.
Because it is a specification that is easy for beginners such as those who can not play the keyboard.
EZbass can be fine-tuned in the software and there are many phrase presets.
I will explain each in detail.
Spectrasonics "Trilian"

IK Multimedia "MODO BASS"

Toontrack "EZbass"
(1)IK Multimedia "MODO BASS"
MODO BASS is a physical modeling bass software developed by IK Multimedia.
Since MODO BASS is electric bass software, there is no synth bass or wood bass. However, since it is physical modeling, it has the feature that it can be customized quite finely.
For example, you can adjust the type of pickup, the type of string, the string height, and the playing position.
---
IK Multimedia MODO BASS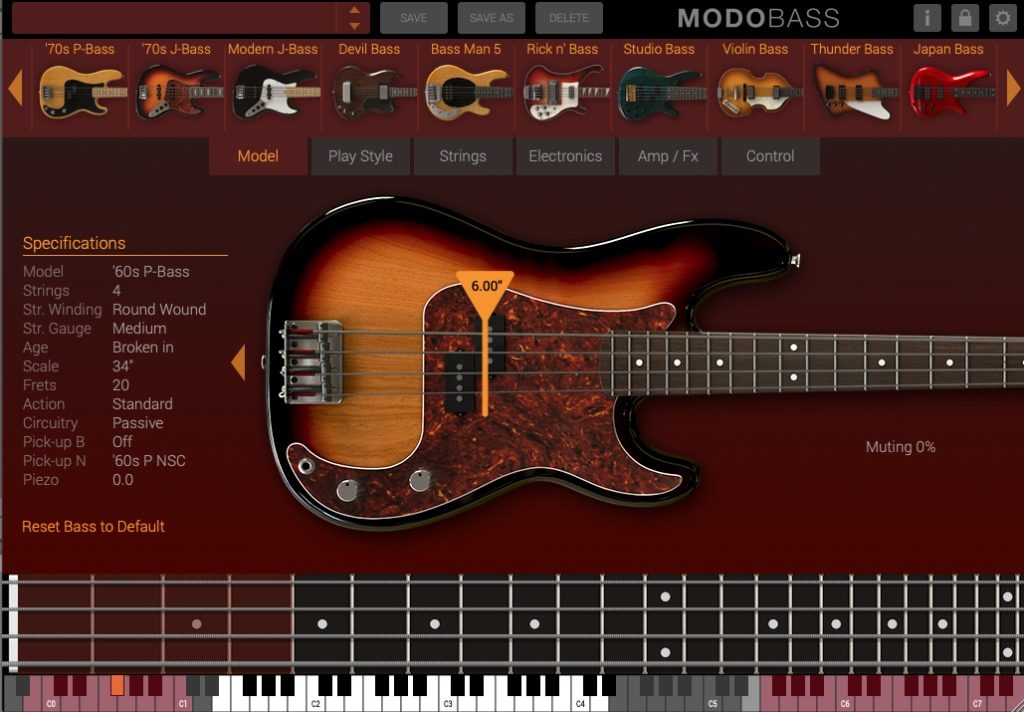 ▶︎IK Multimedia
---
(2)Spectrasonics "Trilian"
Trilian is the base software developed by Spectrasonics.
The main feature is that it covers almost all basses, not only electric bass but also wood bass, acoustic bass and synth bass.
Until the release of MODO BASS, Trilian was said to be the best bass plugin.
---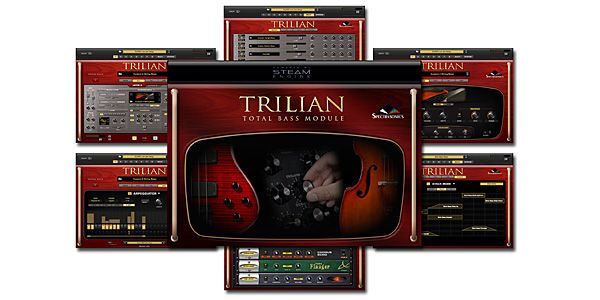 ---
(3)Toontrack "EZbass"
This is the first bass plugin developed by Toontrack, which is famous for drum plugin  Superior Drummer 3 and piano plugin EZ Keys.
There are two types of Bass, sample-based Modern and Vintage.
With the song edit function, you can create a whole song in the software and fine-tune the playing method.
It is recommended for beginners, but it should be noted that the number of models is small.
---
---
These three base plugins can be summarized as follows.
MODO BASS allows you to customize your electric bass

Trilian that covers not only electric bass but also synth bass, wood bass and acoustic bass

EZbass allows you to edit the playing method in detail
Which of the three you choose depends on what you want to prioritize.
MODO BASS for making electric bass sounds

Trilian for the number of sounds

EZbass for editing your playing style
Each has different strengths, so even if you have more than one, you can use them properly.
3. Are other base plugins not attractive?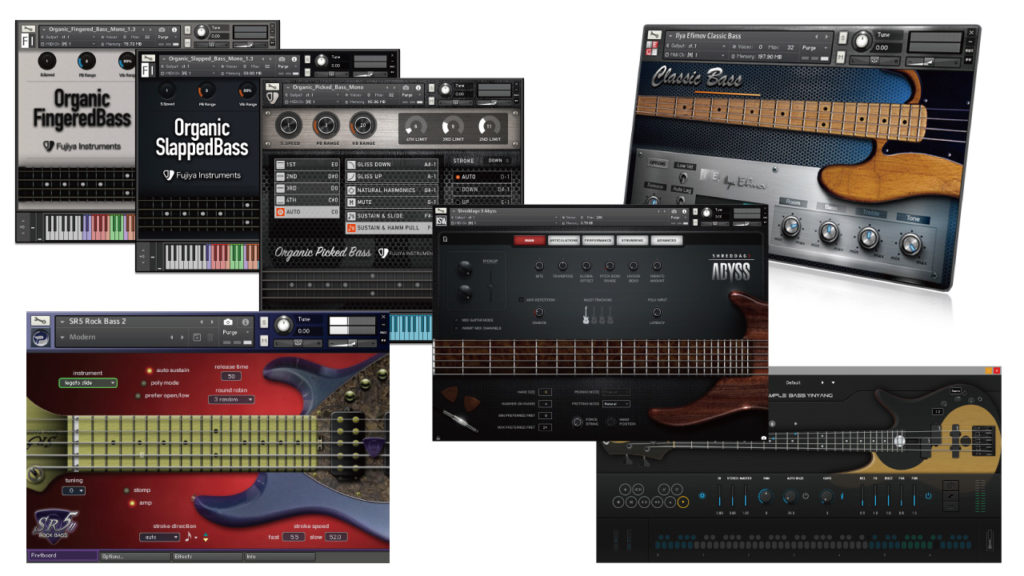 There are almost three choices for the first bass plugin, but in some cases other bass plugins may be better.
Also, I think some people already have those bass plugins and want to add a new bass plugin.
The bass plugin other than the three has the following advantages.
Cheap
Since there are many plug-ins that are classified by model, it is basically cheap.
This is cheaper if you don't need the number of models.
For the time being, it may be an option for those who prefer a cheap one at first.
Specializing in one genre
There are plugins specialized for genres such as those specialized for slap and those specialized for metal.
Especially for metal, it may be better to buy specialized plugins.
Among specialized plugins, there may be plugins suitable for your genre.
4. 5 Recommended Bass VST Plugin Manufacturers (Including Free)
From here, I would like to introduce the manufacturers that sell base plug-ins other than the three introduced above.
Ample Sound (Free)

Ilya Efimov Production

Fujiya Instruments

Prominy

Impact Soundworks (Free)
(1)Ample Sound (Free)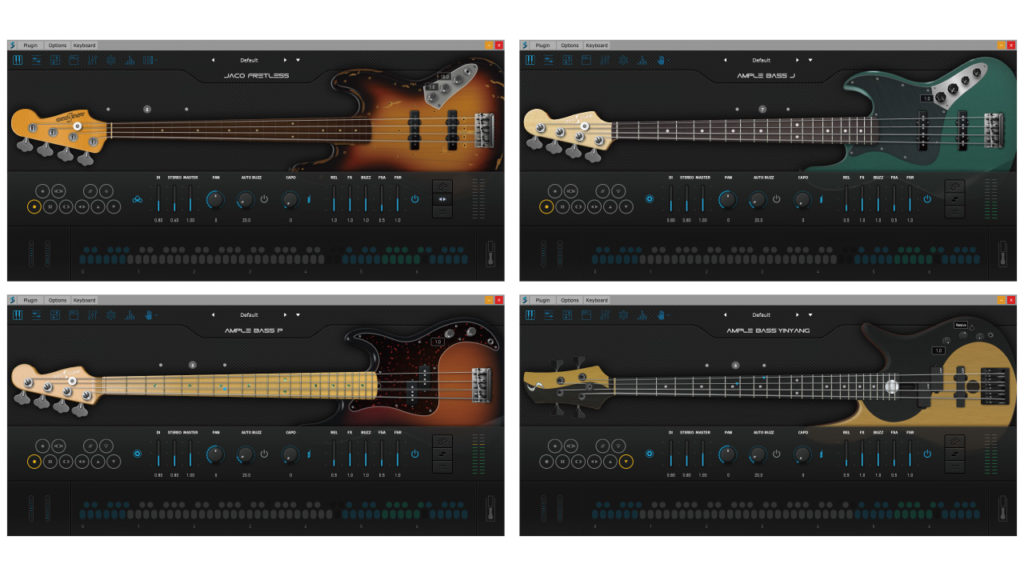 Ample Sound develops not only bass, but also guitar and ukulele sound sources.
Fender Jaco Fretless Bass

Fodera Yinyang

Fender Jazz John English Masterbuilt Bass

Virtual Fender Precision electric bass

Guild B-54 CE Acoustic Bass

Upright Bass
In addition to four types of electric bass, there are two acoustic and upright basses.
Upright bass only costs $149, others $119.
There are also free bass plugin and acoustic guitar plugin.
---
---
(2)Ilya Efimov Production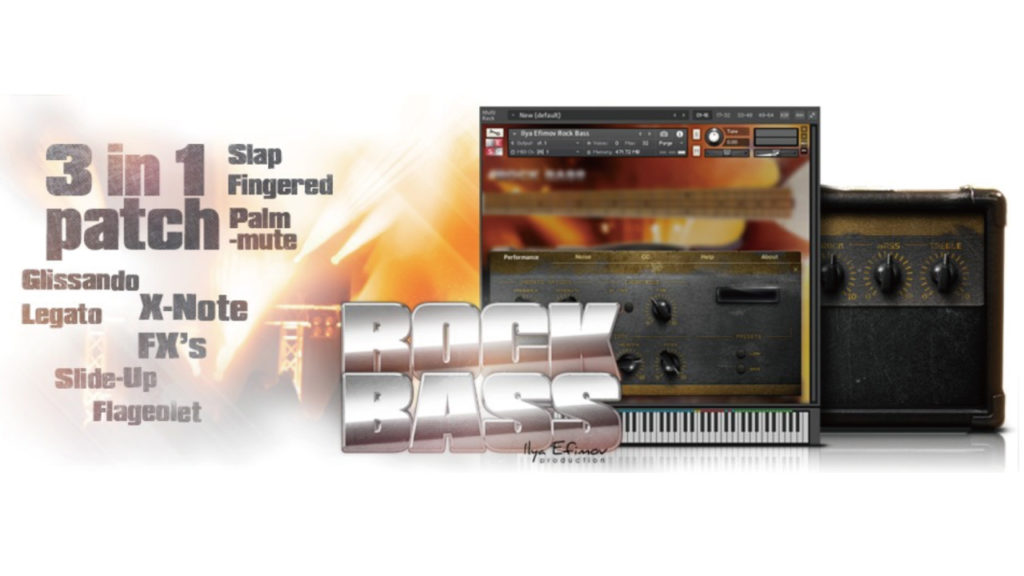 This is Ilya Efimov Production, which develops not only bass but also guitar and folk instrument sound sources.
Rock Bass

Modern Bass

Classic Bass

Fretless Bass

Retro Bass
There are 5 types of base plugins, Retro only costs 49.5 euros and others cost 99 euros.
Works with Kontakt from Native Instruments.
---
Ilya Efimov Production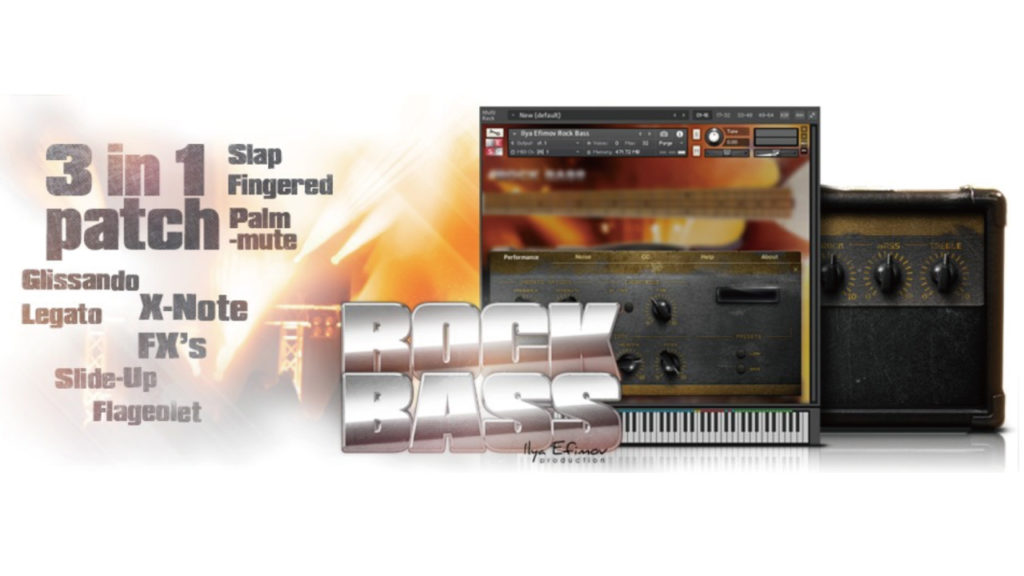 ▶︎Ilya Efimov Production
---
(3)Fujiya Instruments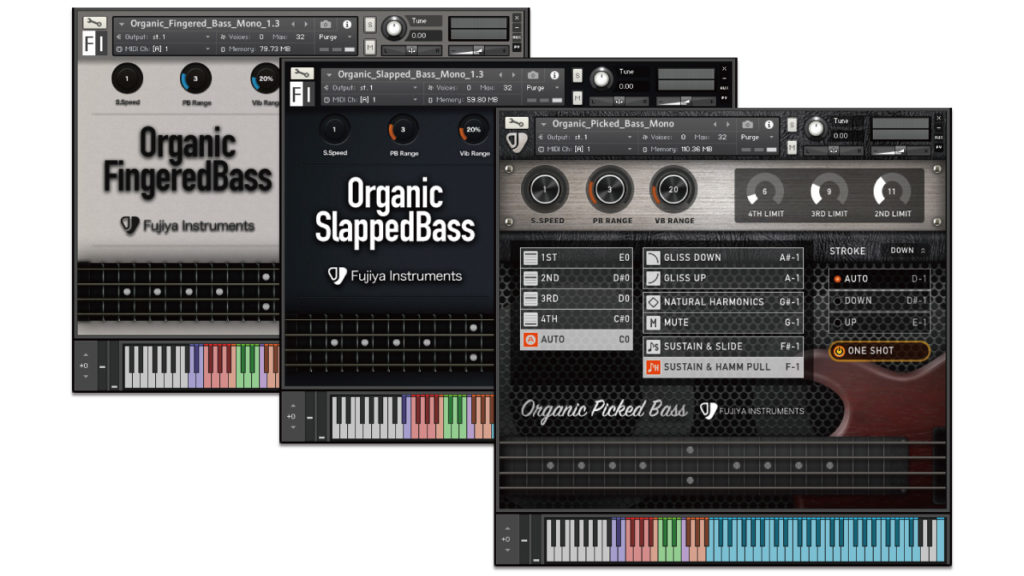 Fujiya Instruments of Japan, who also develops guitar sound sources.
This also works with Native Instruments Kontakt.
Organic Slapped Bass

Organic Fingered Bass

Organic Picked Bass
Each of the three base plugins costs 129 USD, and the combined Organic Bass Suite costs 229 USD.
---
Fujiya Instruments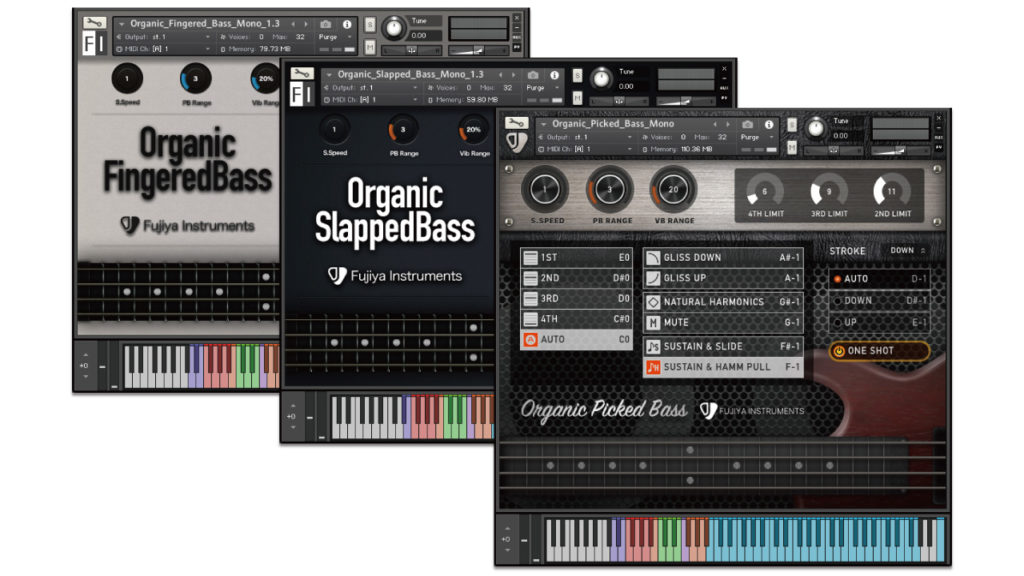 ▶︎Fujiya Instruments
---
(4)Prominy
Prominy is famous for the guitar sound source.
The SR 5 Rock Bass 2 recommended for hard rock and metal is $134.
This also works with Native Instruments Kontakt.
---
---
(5)Impact Soundworks
Impact Soundworks, which develops almost all sound sources.
Bass plugins include Shreddage 3 Abyss and Shreddage 3 Precision.
Shreddage 3 Abyss is a base plugin for heavy metal. The price will be 99 USD.
Shreddage 3 Precision costs 129 USD and there is also a free version.
---
---
5. Free Synth Bass Plugin available for Free
Up to this point, it was mainly electric bass plugins, but I also recommend synth bass plugins.
Basically, any synthesizer software can be used as a synth bass, but I think that plug-ins modeled after analog synthesizers such as the one below are often suited for bass with a fat sound
Articles
The synth bass plugin introduced here is a free synth bass plugin.
X-Eight (free)

TRK-01 BASS (free)
(1)X-Eight (free)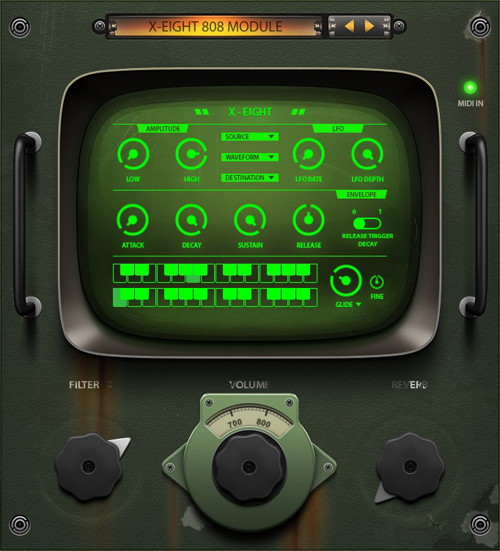 A sub-bass plug-in that releases ultra-low frequencies specialized for the popular sub-bass has been released.
That is X-Eight.
It's a plug-in that goes great with traps and hip-hop. It's as cheap as 60 USD, and there is also a free version.
However, when using X-Eight for a fee
There are many rival products. I recommend checking these and choosing the product that suits you best.
---
ProducerSpot X-Eight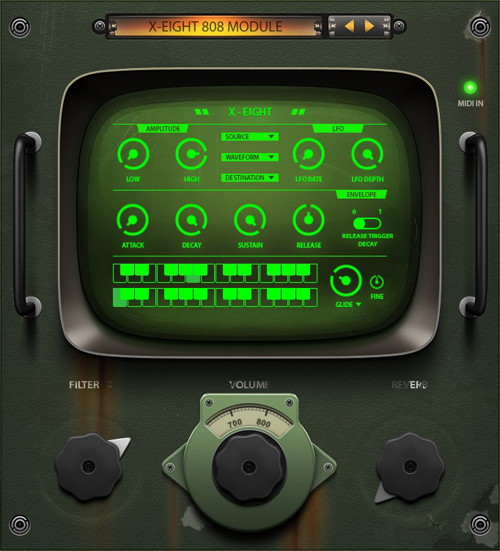 ▶︎ProducerSpot
---
(2)TRK-01 BASS (free)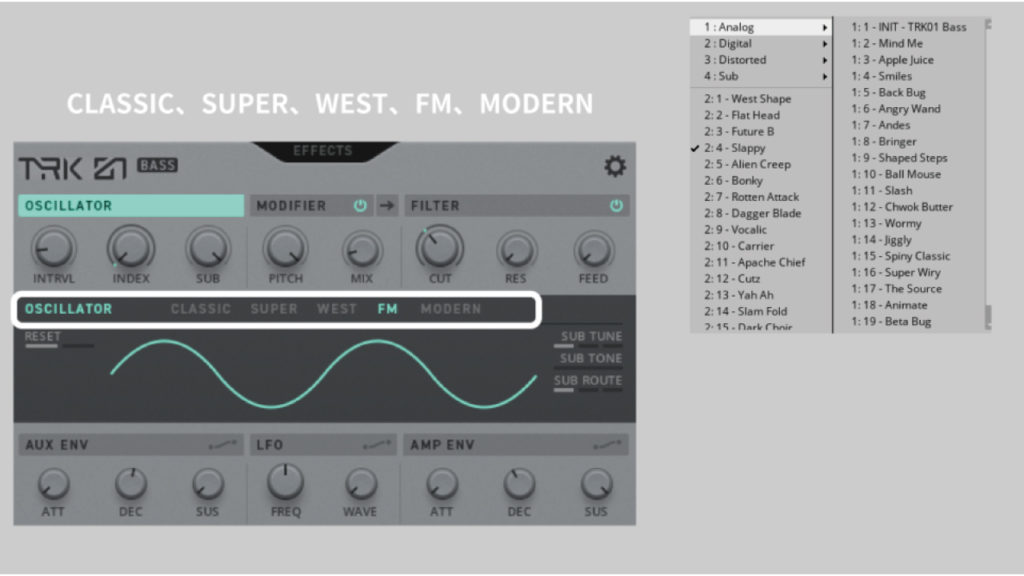 This is a plug-in included in the free version "Komplete Start" of Native Instruments Komplete.
A plug-in that lets you create a bass sound using five different synth engines: Classic, Super, West, FM, and Modern.
You can create a bass sound with a strong attack.
The presets are classified into Analog, Digital, Distorted, and Sub, and there are 20 types of each and 80 types in total.
It's a quality synth that can't be considered free, and it's a pretty usable synth bass.
Summary
Basically, when choosing a base plug-in for the first time,
Spectrasonics "Trilian"

IK Multimedia "MODO BASS"

Toontrack "EZ bass"
Almost 3 choices are fine.
However, depending on the genre and financial circumstances, it may be better to choose other bass plugins. Especially for heavy metal, it might be better to buy another.
I hope this article helpful for you.