If you're looking for a new VST bass plugin, Toontrack's "EZbass" is worth considering. This bass virtual instrument allows you to easily create complex and lifelike playing techniques. But how does it compare to other bass virtual instrument like Trilian or Modo Bass? In this review, we'll dive into the advantages and disadvantages of "EZbass" and give you tips on how to use it effectively.
Read on to discover how "EZbass" can help you create a realistic bass sound in your music production.
1. What is Toontrack "EZbass" ?
EZbass is the first bass virtual instrument developed by Toontrack, the makers of popular drum virtual instrument like SD3 (Superior Drummer 3) and EZdrummer 3, as well as the piano virtual instrument EZ Keys. This VST, VST 3, AU, and AAX plugin is compatible with most DAWs and can also be used as a standalone program.
With EZbass, you get access to two sampled basses: Vintage and Modern. The software includes a song edit function that allows you to create an entire song within the program, adjusting playing techniques and more. While the software allows you to make detailed adjustments within the program, the MIDI data also includes articulations. For example, by checking the piano roll, you can see which key switches are active.
The following key switches are available:
D-1: index finger
D#-1: right-hand percussion
E-1: ghost note
F-1: slide (+F#0)
G#-1: tapping
A#-1: harmonics
B-1: slap/pop (+E-1 ghost slap / +D#-1 left-hand percussion)
C#0: middle finger
G#0: legato (hammer-on/pull-off)
In addition to the two basses included with the software, you can expand your library with EZbass expansion packs (EBX). These packs allow you to add acoustic, wood, and fretless basses to your collection. You can also choose from a variety of genres, such as classic rock, metal, heavy metal, gospel, and more. The software also supports MIDI expansion packs that give you access to additional phrases and patterns.
| | |
| --- | --- |
| Development company | Toontrack |
| Price(list price) |  €155 |
---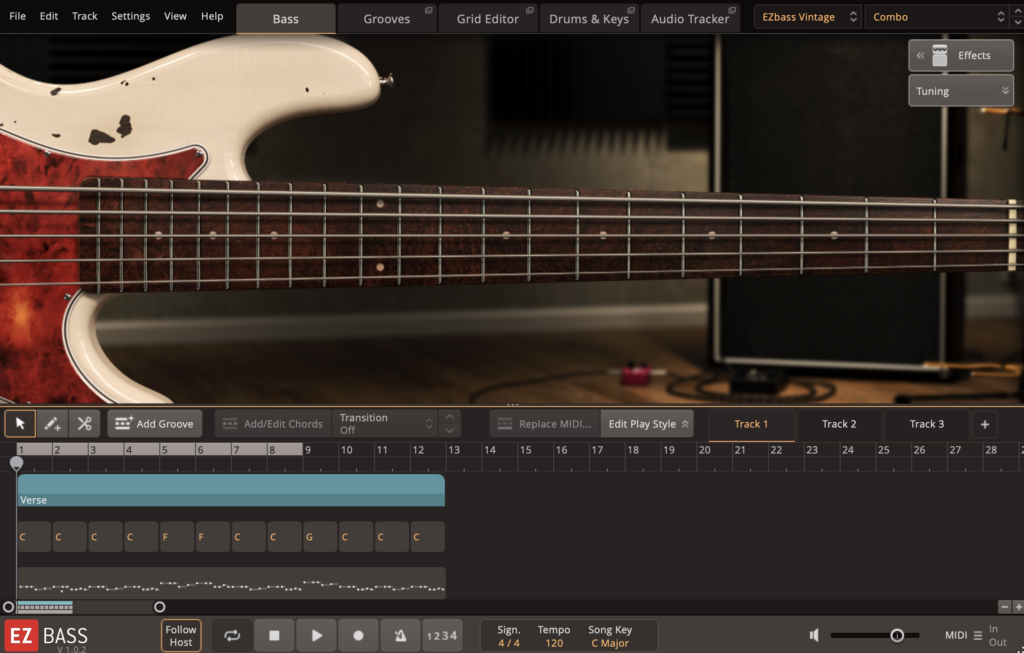 ---
Click here for an article about bass vst plugins.
2. Advantages
There are two advantages when using Toontrack "EZbass"
Can be finely edited in software
You can create a baseline from MIDI or audio
(1)Can be finely edited in software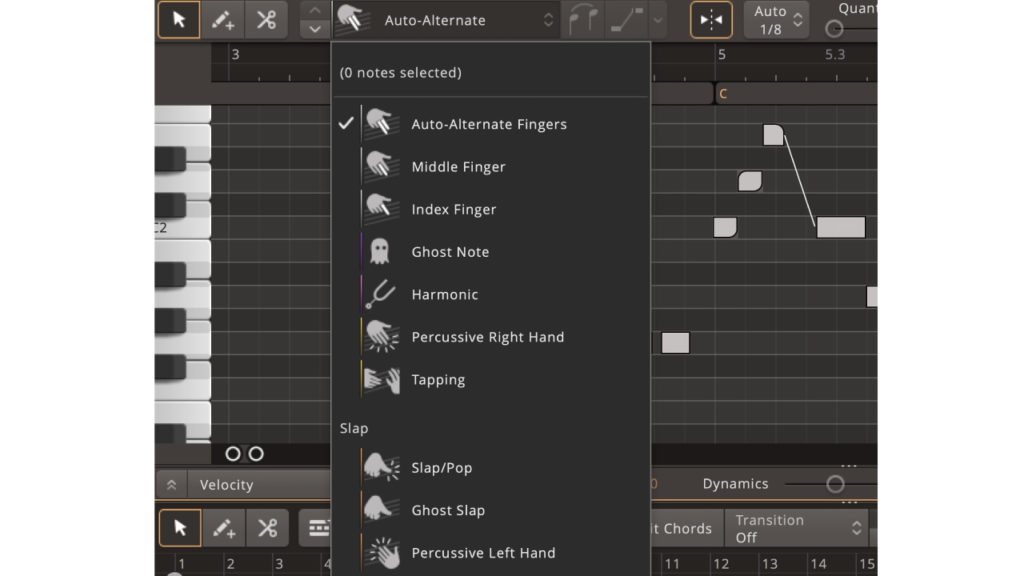 In the case of other bass virtual instruments, when you want to edit the playing method in detail, you need to enter a different key (e.g., ghost note with C1) to specify the playing method.
However, EZbass allows you to easily specify the playing method one by one in the software, so you can easily make detailed edits.
Actually, EZbass also has keys for inputting playing methods, but you can select each playing method in the software without checking which key is which playing method.

I think slides and legatos are particularly convenient and good.
To slide or legato the key transition, simply select and set two keys to complete. You can also slide in and slide out very easily.
(2)You can create a baseline from MIDI or audio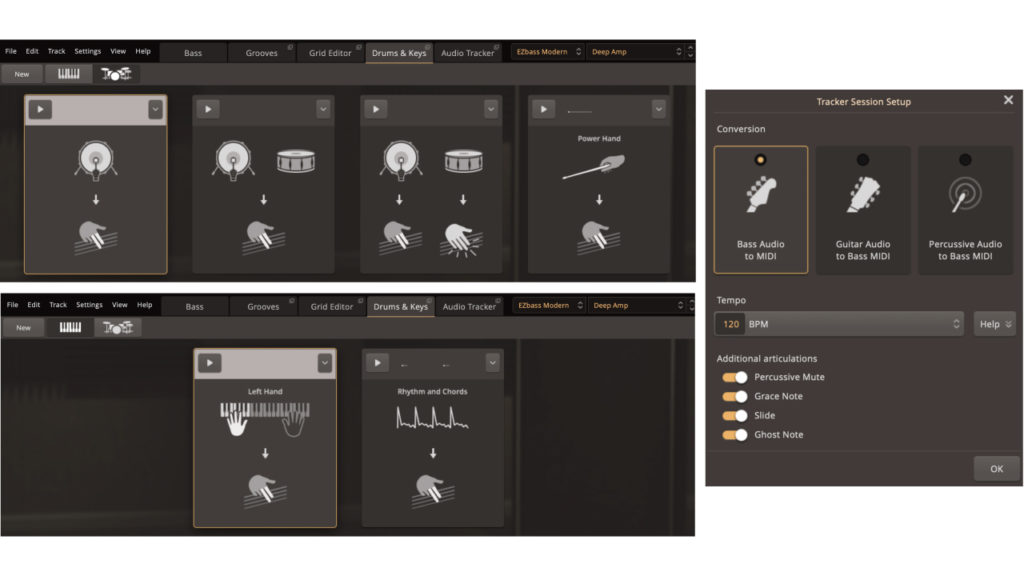 You can load MIDI or audio to create a bass.
Even if there is no movement in the generated baseline, you can add movement to the note transition with the Transition function.
In addition, there are many phrase presets, and you can use them by changing only the key.
It can be created in detail without playing the keyboard, so it is recommended for those who are not good at playing.
3. Disadvantages that you should know before using
However, there are two disadvantages to know before using Toontrack "EZbass"
Only two types of bass
There are few parameters that can make a bass sound
(1)Only two types of bass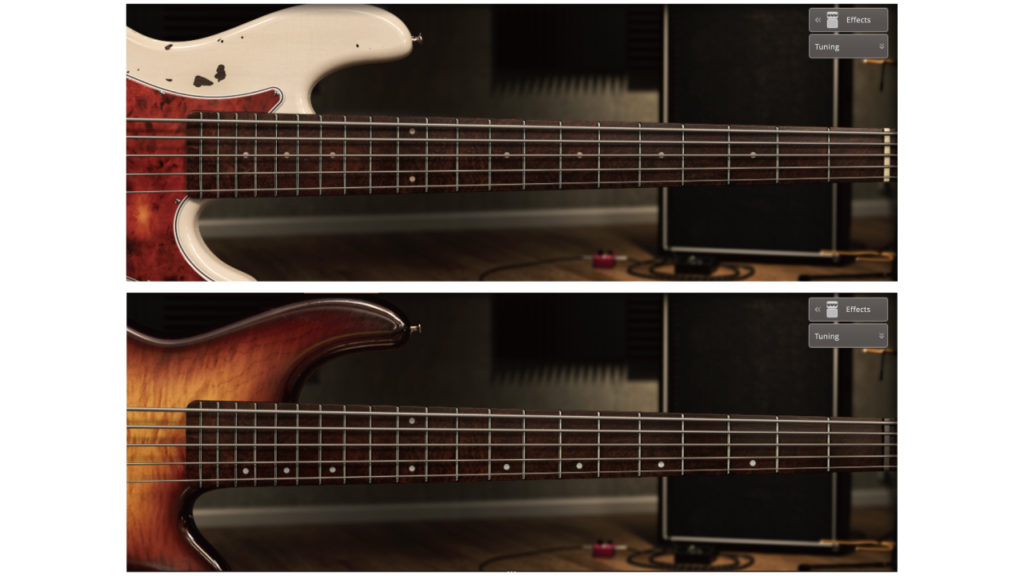 There are multiple presets, but only two sampled bass.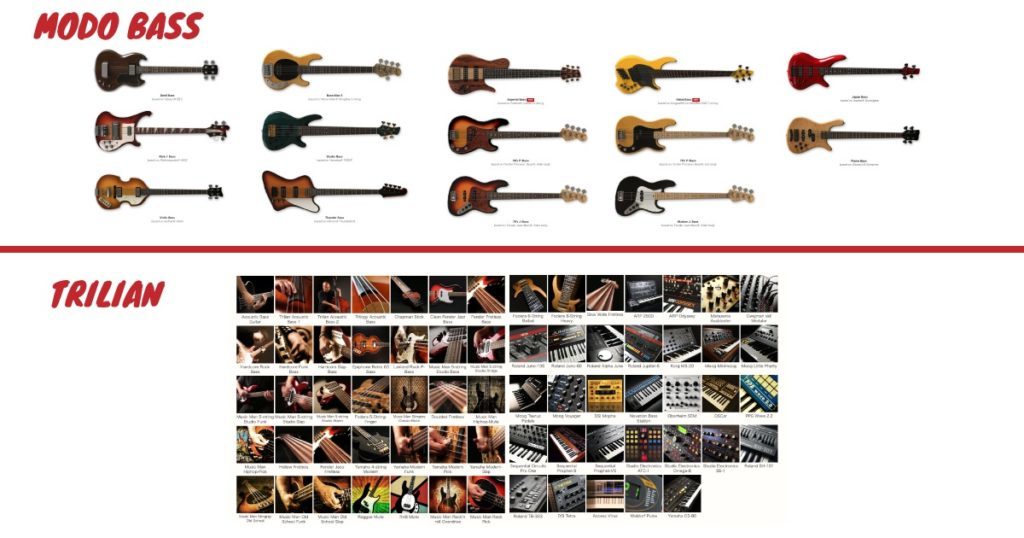 Please note that it is considerably less than the standard bass software Spectrasonics "Trilian" and IK Multimedia "MODO BASS".
(2)There are few parameters that can make a bass sound

The parameters in the image above vary depending on the preset, but basically there are few parameters that create the sound of the bass.
4. Compared to Trilian / MODO BASS
Popular bass software is Spectrasonics "Trilian" and IK Multimedia "MODO BASS".
However, I think that there are many situations where you can use EZbass even if you have Trilian and MODO BASS because you can edit the playing method in detail.
The sound is a little smaller than that of Trilian and MODO BASS, and the core is thin, but I think that it is natural and easy to adjust.
I personally think that it will be used for advanced playing methods and bass lines with a large number of notes.
MODO BASS that allows you to finely customize 10 types of electric bass.
Trilian that covers bass from synth bass to wood bass.
EZbass allows you to edit the playing method in detail.
5. How to install and activate Toontrack products
Toontrack products are easy to install and activate in 3 steps below.
Download and launch Toontrack Product Manager
Enter the serial number from "Register New Product" on the upper left
Download, install and activate the product
6. How to Use
From here, I will explain how to use it.
For the official manual, explanatory videos are released one after another.
You can select 5 items from the top. Other than Bass, you can change to another screen from the upper right.
(1)Bass
2 types of base from the top right
EZbass Modern
EZbass Vintage
Select and then select a preset next to it.
You can make sounds from the upper right "Effects", but the parameters here are different depending on the preset you select.
You can tune Octave, Semitone, and Cent from "Tuning".
You can also choose from three modes.
Perfect (Default) : Tuning that completely doubles the octave.
Bass : Tune in the same way as a bass guitar.
Piano : Similar to bass, but adapted to stretch tuning for piano tuning.
(2)Grooves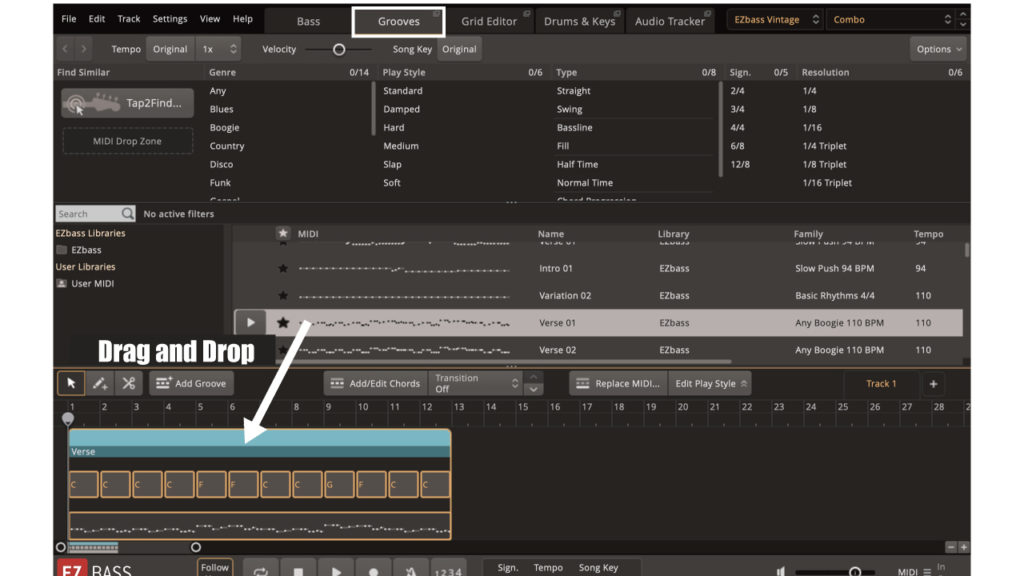 This is a preset phrase.
Select a genre, play style, etc. to select a phrase. You can use the phrase by dragging and dropping it on the lower track.
Tap2Find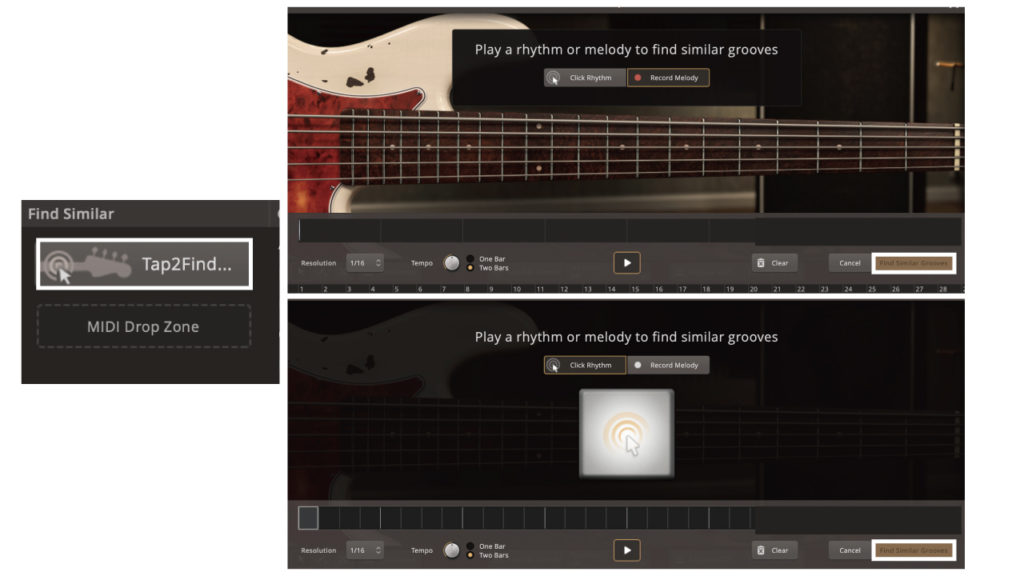 Tap2Find allows you to search for similar phrases by clicking on the rhythm (Click Rhythm) or by entering the melody (Record Melody) and clicking "Find Similar Grooves" at the bottom right.
(3)Song Track

The lower track has three parts (Song Parts, Chords, MIDI).

Song Parts : It shows which part of the song such as Verse or Chorus. Right-click to change from Song Part Type.

Chords : You can change the chords by double clicking or "Add / Edit Chords". There is also a code notation at the top of the Grid Editor, which can be changed by double-clicking.
Those who make a bass directly with a MIDI keyboard may wonder if chord progression is necessary, but it is convenient because you can select each chord and change it all at once.
MIDI : This part can be finely edited with the upper Grid Editor.
Add Groove : Add Groove. By default it is added with the Song Key chord.

Transition : There are several note transfer presets. Transitions change MIDI.
Replace MIDI : The Groove item opens. You can change to the MIDI preset of your choice.

Edit Play Style : You can adjust the velocity, length, bassline MIDI note amount (Amount), and mute amount (Damping).
Track : You can add tracks with the + button. You can set different MIDI and chords, just like adding tracks in your DAW.
MIDI created in the software can be pasted to the DAW by dragging and dropping.
(4)Grid Editor
Grid Editor is in sync with Song Track.
Grid Editor and Song Track can select three operation tools.
Arrow : Select
+ Pen : Add
Scissors : Split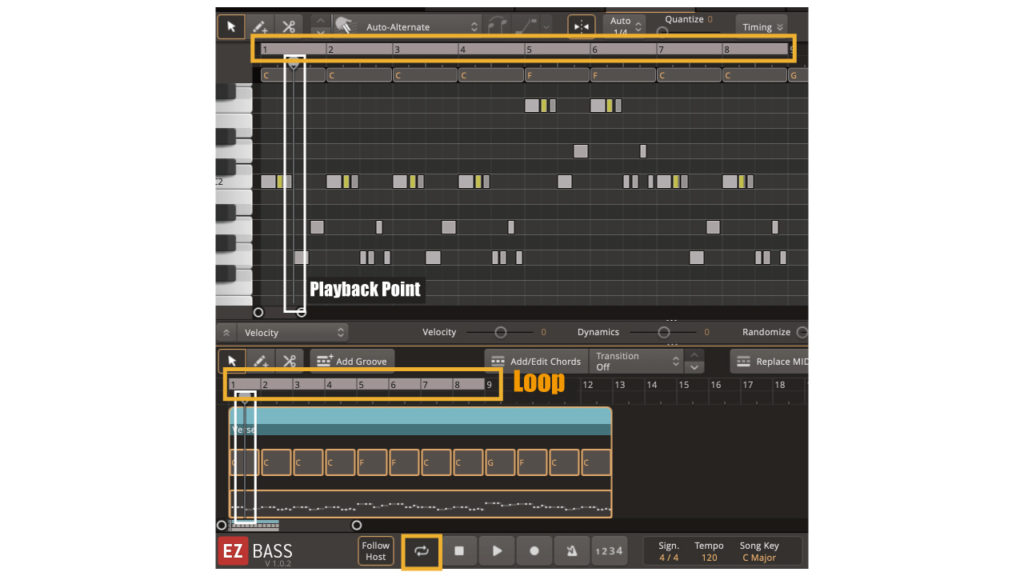 There is a playback point between the number of measures and Song Parts. Move the playback point by dragging or clicking.
Also, there is a loop in this part. Click to turn it on and drag to define the range. You can turn it on and off from the loop mark at the bottom.
How to record in EZbass

Before you start recording, set Tempo and Song Key from the bottom.
Sync with your DAW with "Follow Host". Click on the metronome mark and the 1234 mark to add the metronome and the 4 beats before REC. Press the record button and then the play button to start recording.
For editing, drag a note up or down to adjust the pitch, and drag left or right to adjust the timing, similar to a standard MIDI track. You can also adjust the length by dragging the edge of the note.

Select : It is possible to select all the notes from the upper right "Select". You can select all from "All", select from beats by "By Resolution", and select from playing method by "By Type".
Playing Method
You can select the playing method from the top.
Auto-Alternate
Middle Finger
Index Finger
Ghost Note
Harmonic
Percussive Right Hand
Tapping
Slap Pop
Ghost Slap
Percussive Left Hand

Next to it is Hammer On / Pull Off (Legato), Slide.
If you want to legato or slide between two notes, drag and select two to set.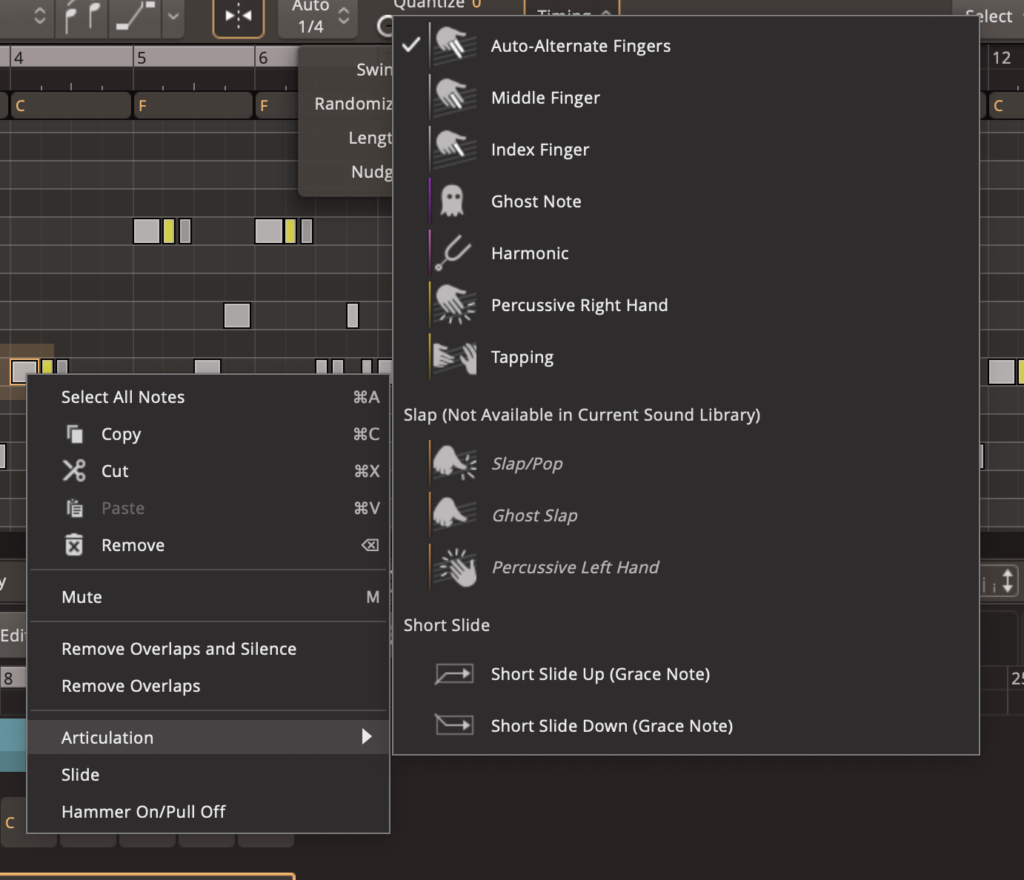 You can also right-click a note and set the playing method.
Quantize

Quantize (rhythm correction) is adjusted by the adjacent "Auto" beat.
Timing

You can also set the rhythm in detail from Timing.
Swing : Swing
Randomize : Adds randomness
Length : Adjust the length
Nudge : Move the note forward or backward
Velocity

Velocity in the middle can be opened by clicking the up arrow on the left edge.
Not only can you set them individually, but you can also select multiple and make various adjustments collectively.
Velocity : Adjusts the velocity.
Dynamics : Adjusts the velocity range of multiple selected notes. Positive (+) will increase the velocity difference, negative (-) will decrease the velocity range, and -127 (-127) will give the same velocity.
Randomize : Adds randomness.
Slope : The velocity can be adjusted from large to small and small to large. This is useful when you want to crescendo.

It is also possible to change "Velocity" from the left end to Pitch, Vibrato (Modulation), Sustain Pedal, Damping, etc. for adjustment. You can create automation with the + pen.
(5)Drums & Keys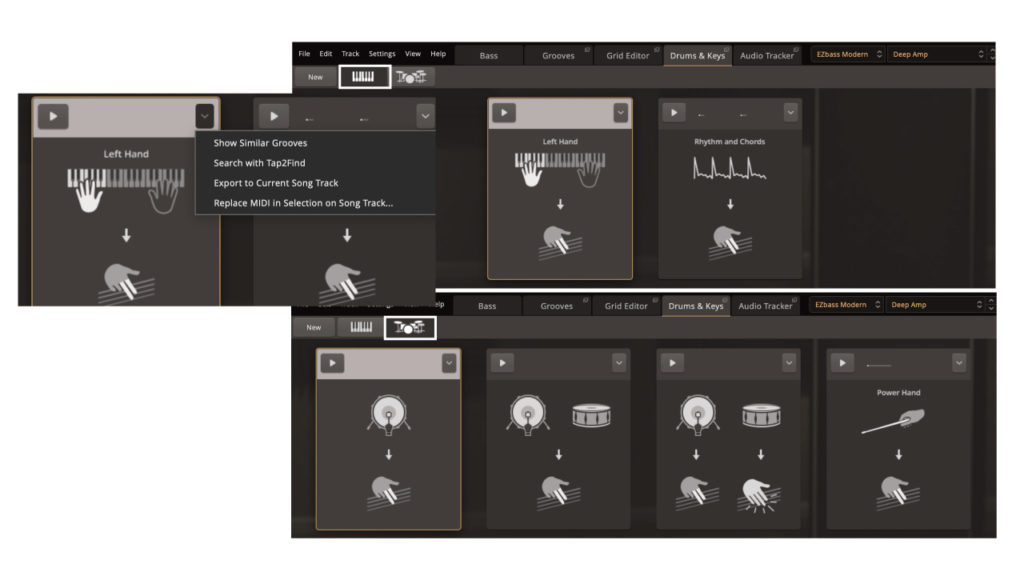 Create a bass using MIDI from a drum or keyboard.
If you select MIDI File, there are several generation patterns for each of the keyboard and drum, and you can select them after listening to each from the upper left play button.
You can also search for similar presets with "Show Similar Grooves" or "Search With Tap2 Find" from the top right.
If you like it, you can drag and drop it to the lower track and use it.
(6)Audio Tracker
Create MIDI from Audio of Guitar, Bass and Percussive (Drums).
It is possible to read from a file, but it is also possible to load the input by inserting another plugin "Toontrack Audio Sender" to the audio track. Toontrack Audio Sender is a plugin that can be installed separately from EZbass.
When you load Audio, you can select Guitar, Bass, Percussive (Drums), and set tempo and articulation on / off.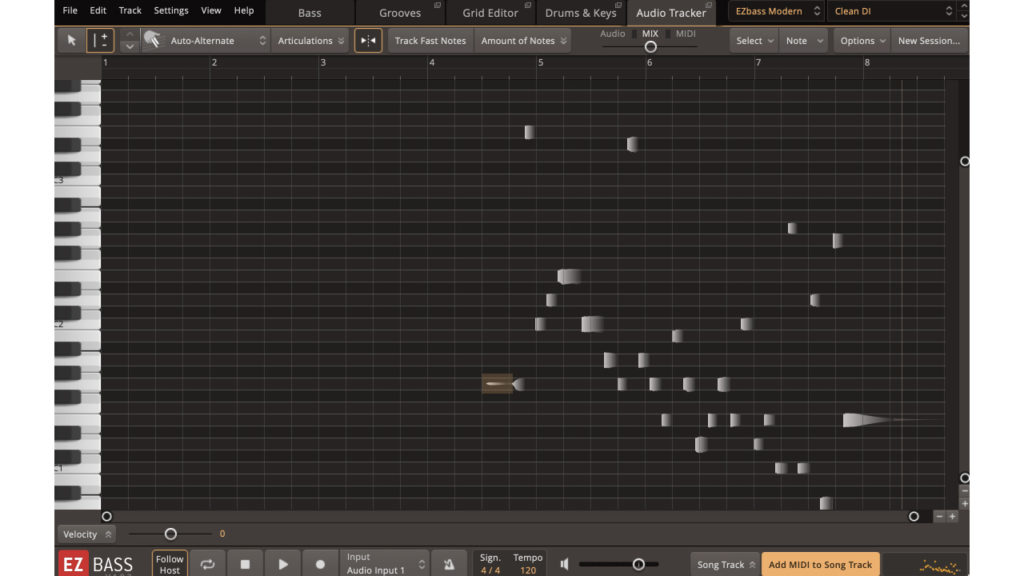 You can edit in the same way as the Grid Editor while listening to the loaded Audio and comparing the generated MIDI.
From the MIX on the top, you can adjust the balance between the volume of the loaded audio and the generated MIDI.
When you are satisfied with the MIDI creation, select "Add MIDI to Song Track" at the bottom right.
---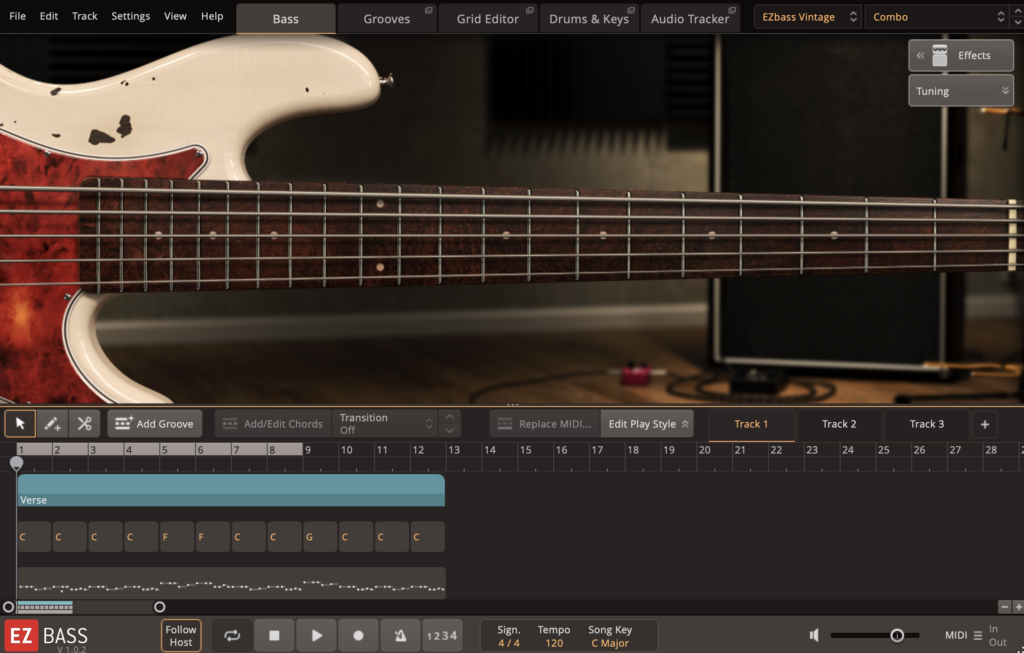 ---
Summary
Toontrack's EZbass is a versatile bass software that has many benefits for music producers. It offers detailed editing features, enabling you to create complex bass tracks with ease. Additionally, it allows you to create bass lines from MIDI or audio, making it a versatile tool for any music producer.
However, there are a few disadvantages to note. Firstly, the software only includes two types of bass, which could be limiting for some users. Secondly, there are few parameters available to manipulate the sound of the bass. Despite these limitations, EZbass is still a powerful bass software that is well worth considering for any music producer looking for a versatile tool to create professional-sounding bass tracks.
---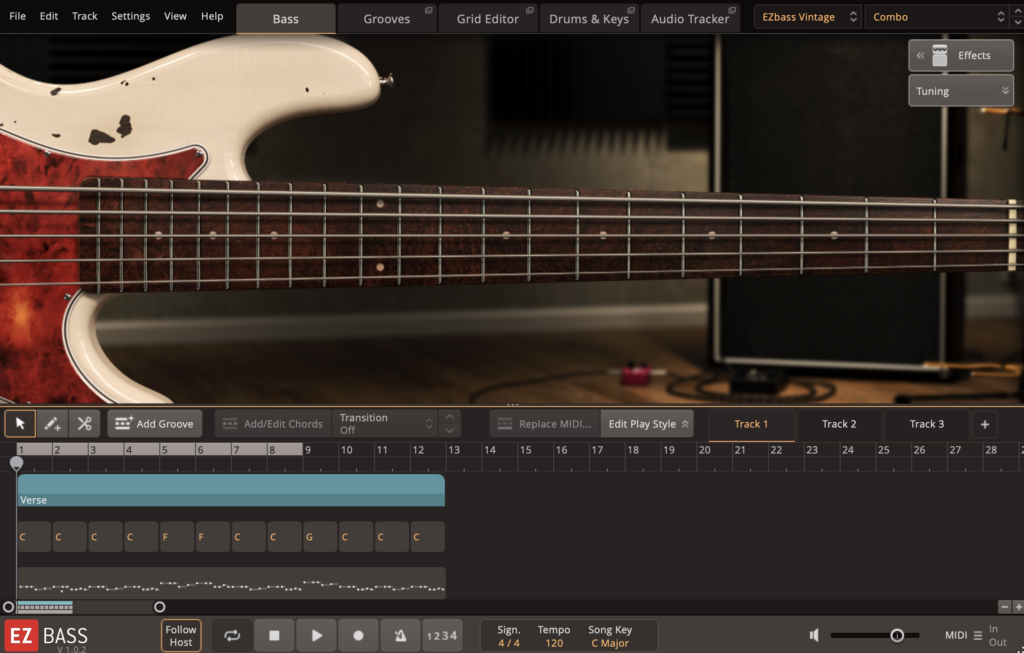 ---