The latest version,Loopcloud 6,was released in April 2021. One of its exceptional features is the ability to edit and play back samples in your digital audio workstation (DAW) before purchasing or downloading them. Therefore, you can carefully examine and choose the samples that suit your needs.
In this article, we will explain the benefits, precautions, and how to use Loopcloud. So, please take a look and use it as a reference.
1. What is Loopcloud 6.0 ?
Loopcloud 6 is a sample platform app that offers over 4 million samples for you to manage and edit, allowing you to use them in your own music without worrying about copyright issues.
The samples are priced based on points, with a fixed number of points provided each month that you can use to download samples. The price for each sample typically ranges from 0 to 2 points.
If you use up your monthly points, you can purchase additional points to continue downloading samples. Alternatively, you can also purchase points without subscribing to a monthly plan.
There are also many free samples available that do not require points. However, keep in mind that the number of free samples you can download per day varies depending on your plan (more on that below).
Additionally, free plugins such as Loopcloud Drum and Loopcloud Play are available, and their presets can also be purchased with points within the Loopcloud app.
It's worth noting that you can edit and play back samples in your digital audio workstation (DAW) before purchasing (and consuming points) or downloading them. This feature allows you to carefully examine and choose the samples that best suit your needs.
If you're interested, there's also a free trial available to give Loopcloud 6 a try.
Development company
Loopmasters
Subscription Plan
Artist Plan

£

5.99 / mo

Studio Plan £9.99 / mo

Professional Plan £17.99 / mo

Subscription Plan
Artist Plan £59.99 / year

Studio Plan £99.99 / year

Professional Plan £179.99 / year

Purchase additional points

100 points : £4.99

250 points : £7.99

500 points : £14.99

Free Trial
30 days
Free VST Plugins
Loopcloud Drum

Loopcloud Play
---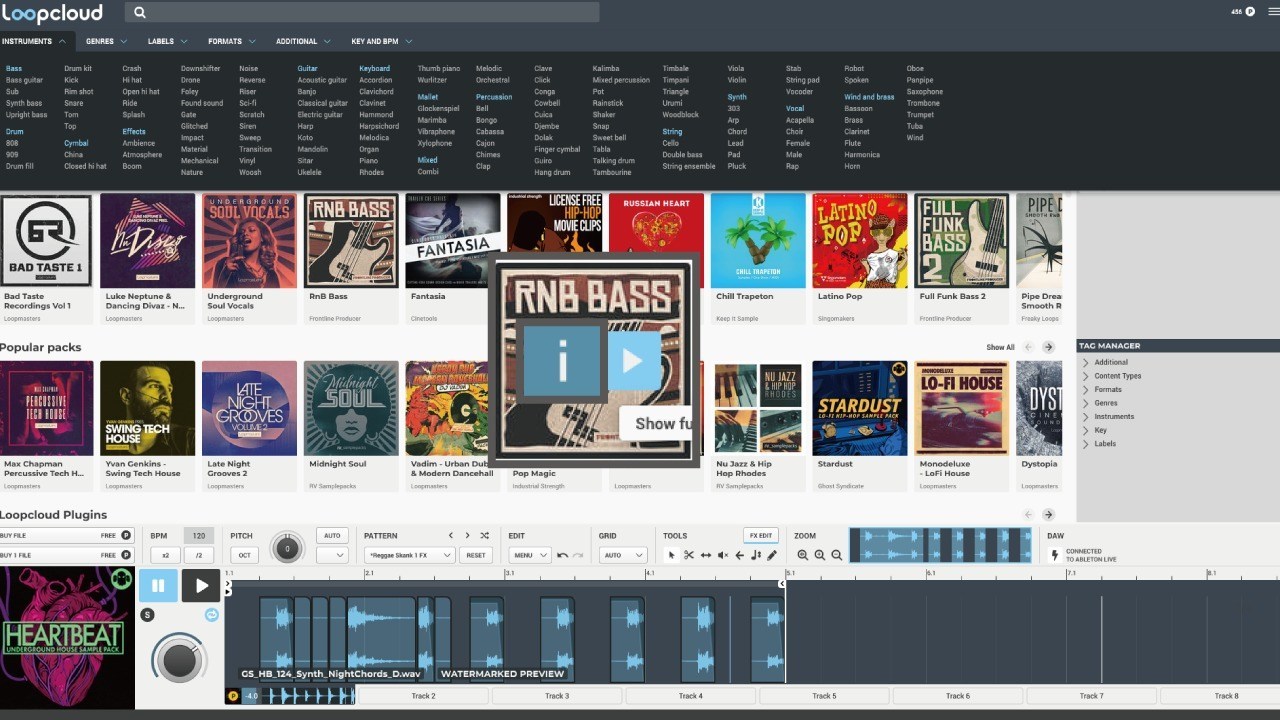 ---
Subscription Overview
See the table below for the specifics of the subscription and the differences depending on the plan.

Based on the above table, we have summarized the differences between the plans in four key areas:
Plan Differences 1: Points/Price
Points and prices granted during the payment cycle are as follows:
Artist: 100 points per month for £5.99 or 1200 points per year for £59.99
Studio: 300 points per month for £9.99 or 3600 points per year for £99.99
Professional: 600 points per month for £17.99 or 7200 points per year for £179.99
If paid annually, each plan can be used for 10 months.
Plan Differences 2: Storage

All plans include cloud storage:
Artist: 5GB
Studio: 50GB
Professional: 250GB
Plan Differences 3: Machine Limit
Loopcloud accounts can be synced between multiple machines, making it easier to manage music projects across different devices. Professional plan users can sync up to four machines, while all other plans allow syncing up to two machines.
Plan Differences 4: Free Sounds/Day

The number of free samples you can download per day without using points and labeled "FREE" also differs between plans:
Artist: 10 samples
Studio: 20 samples
Professional: 50 samples
All Plans: Shared Features
The following five features are available across all plans:
FX and editing capabilities
Multitrack functionality
loopmasters.com purchases
Your Sounds
Plugin Suite
FX and Editing Capabilities
All plans offer extensive editing capabilities, including effects, pitch control, pattern saving, and multiple tracks.
Multitrack

Preview up to eight sounds at once and create arrangements within the app. Loopcloud can also be used to create entire music tracks.
loopmasters.com Purchases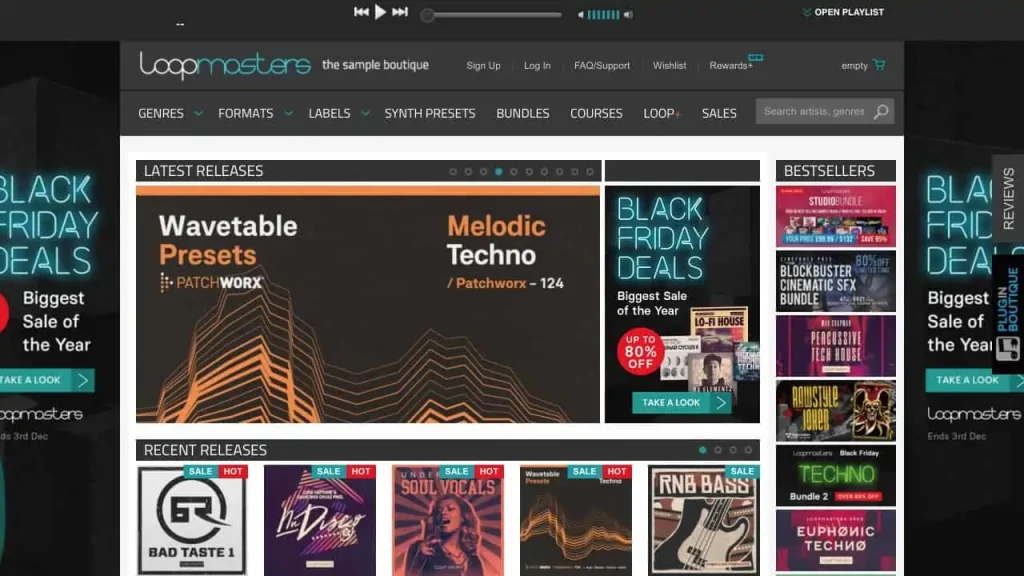 All plans automatically display samples purchased on loopmasters.com.
Your Sounds

This feature is available on all plans, allowing you to add your own samples to the app's library for management and editing.
These features are available across all plans.
Plugin Suite Overview
Loopcloud comes with two plugins, both of which can be used for free with all plans.
Loopcloud offers a variety of plugin extension packs for purchase in addition to default presets. By consuming points based on the monthly plan, you can easily add new sets to your library.
Loopcloud DRUM
Loopcloud DRUM is a drum sampler plugin that allows users to create and manipulate drum sounds. It also offers several types of drum packs that include various expansion drum packs. In November 2021, Loopcloud DRUM was also launched as a standalone plugin for sale.
loopcloud DRUM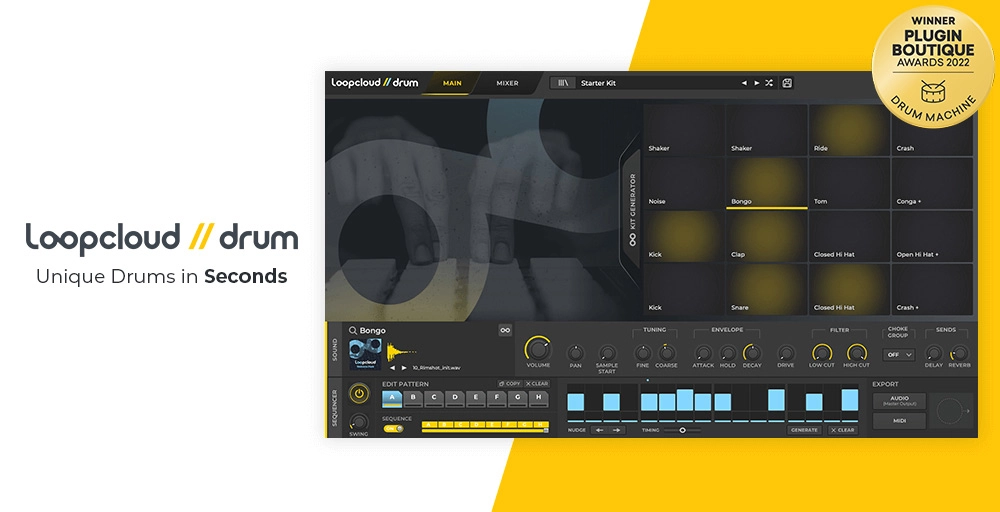 ▶︎Plugin Boutique
Loopcloud PLAY
Loopcloud PLAY offers a wide range of virtual instrument, with a focus on synths. There are already a vast number of presets available from the get-go.
In addition, as of November 2021, the standalone plugin version of Loopcloud PLAY is now available for purchase.
There are also several sets of extension packs available for sale, which are bundled together.
loopcloud PLAY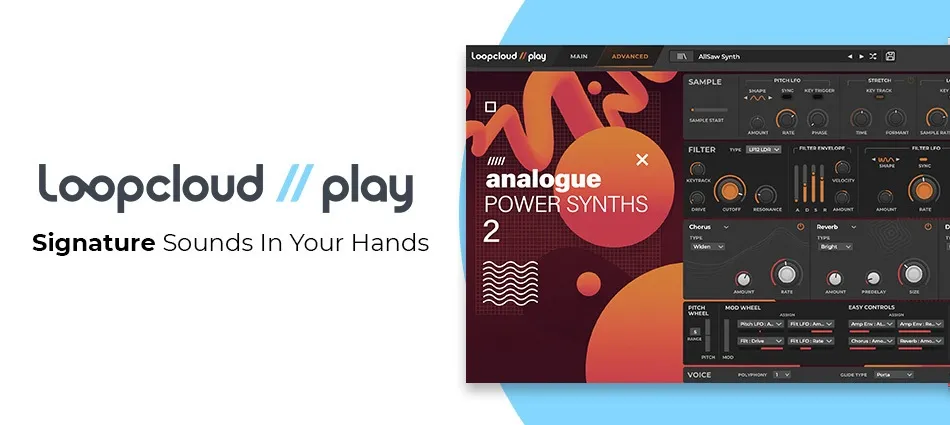 ▶︎Plugin Boutique
2. Loopcloud 6 Update Features
Loopcloud has evolved with the release of version 6, bringing significant advancements to its sample search and organization features. The key updates with version 6 include:
Audio Filters

In addition to common searches like key and BPM, you can now apply various filters related to sound characteristics such as attack, decay, swing, and tone. You can access these filters by clicking on the icon in the top right corner of the Loopcloud app.
The search results will automatically update as you adjust the filter parameters.
Match Sounds

You can now find similar sounds not only for purchased samples but also for those in your own library by right-clicking the match icon. The AI function automatically tags the samples in your library for easy searching.
There are three matching functions: harmonic, rhythmic, and normal.
Effect Updates

EQ, Tonobox, and Compressor have been updated.
You can also change effect presets by clicking the < > button in the top left corner.
Export Feature

Exporting your edited samples to your DAW has become even more user-friendly.
You can select your preferred export method in the settings menu according to your editing needs. More details on how to use this function can be found in the following section.
3. Advantage
There are four advantages when using Loopcloud
Get 100 points for free and enjoy a 30-day trial.
Frequent campaigns such as free plugin distribution and trial period extensions are held.
You can edit and examine samples before using your points.
Save your samples in the cloud.
(1)100-point gift and 30-day free trial available
Although the free Free plan is no longer available, a 100-point gift and a 30-day free trial are still available.
Furthermore, upon free registration and launching the app, there is a Welcome Pack (a collection of samples), which provides a lot of samples right away.In other words, you can get a lot of samples for free.
Currently, the following benefits are available:
30-day free trial
Loopcloud Welcome Pack (1GB)
100 credits to use within Loopcloud
Stay Inspired Vocal Pack (1GB) Moreover
There may be occasions where plugins are offered for free or free trial periods are extended.
(2)Frequent campaigns offering free plugins and extended trial periods
They frequently hold various campaigns, such as free coupons for use on their plugin sales site, Plugin Boutique.
(3)Edit and examine samples before spending points

With Loopcloud, you can process and listen to samples in the app before purchasing or downloading them, allowing you to examine them thoroughly before spending points. Additionally, the app is equipped with various effects in addition to editing capabilities.
(4)Save to the cloud

All plans include access to cloud storage, which is extremely convenient as it does not take up space on your computer. You can even upload your own samples to the cloud.
However, if you paste a sample from the cloud into your DAW, it will be downloaded to your computer. The folder for downloaded samples when pasted from the cloud is as follows:
Location of the folder in Mac: Username -> Library -> Loopcloud -> library
We recommend using this Cloud Storage to save samples you have acquired from other sources and have not yet used in your DAW.
Other ways to utilize the cloud include:
Save samples used in completed songs in a folder named after the song and upload to the cloud.
Delete samples from your computer to save disk space.
By doing the above, you can save samples to the cloud and reduce the amount of space they take up on your computer. However, keep in mind that you will need to re-download samples when you open a project that uses them again. As such, this method is best for saving samples used in completed songs that you will not be reopening frequently.
4. Disadvantages that you should know before using
There are some important points to note when using Loopcloud.
(1)There are other monthly sample services, so it is better to compare and consider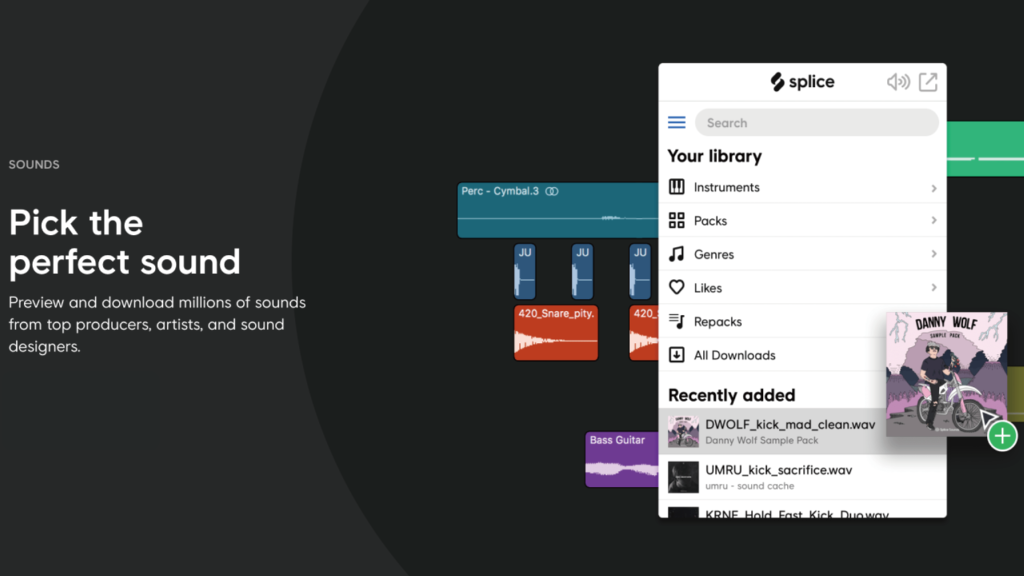 The famous monthly sample service is Splice Sounds. You should check the service and consider which one is right for you.
Splice Sounds is not available for free. However, it is recommended because you can easily download your favorite samples without any restrictions.
5. How to register for a free trial and cancel your subscription
Loopcloud offers a 30-day free trial, so it's a good idea to start with the trial before deciding whether to use it for a long time or not.
Click on "Tray It Now" in the upper right corner and select a plan.
Choose between "Monthly" and "Annual" and select "Start Trial" for the plan you want to enter.
On the left side, create an account by setting up the following information: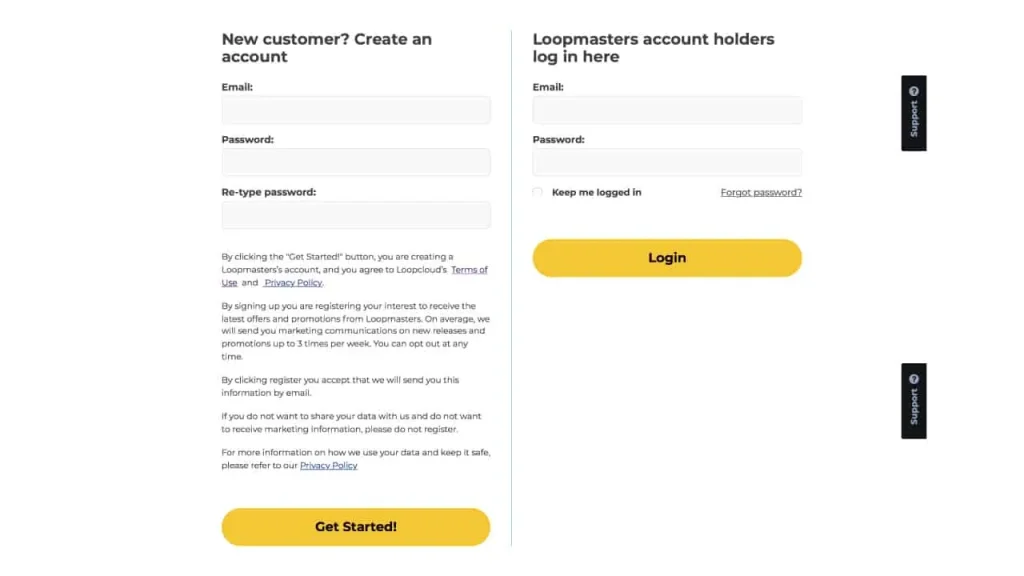 Email address
Password
Re-type password
Then, select Get Started! to create an account.
If you already have a Loopmasters account, enter your information on the right side.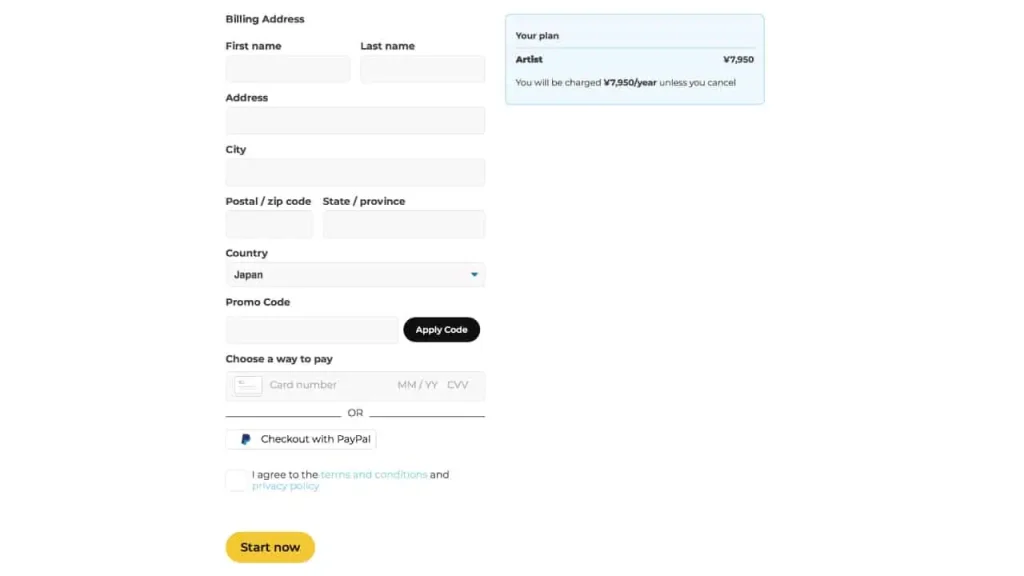 Enter your name, address, payment method, and coupon code.
Enter your First Name, Last Name, Address (including city), Postal/Zip code, State/Province, and Country.
Choose a payment method:
Checkout with PayPal
Credit Card (Enter your card number)
Check the "I agree…" box and select "Start Now" to complete your registration.
If you have a coupon code, enter it in the "Promo Code" field and select "Apply Code."

Finally, download and install the Mac or Windows application.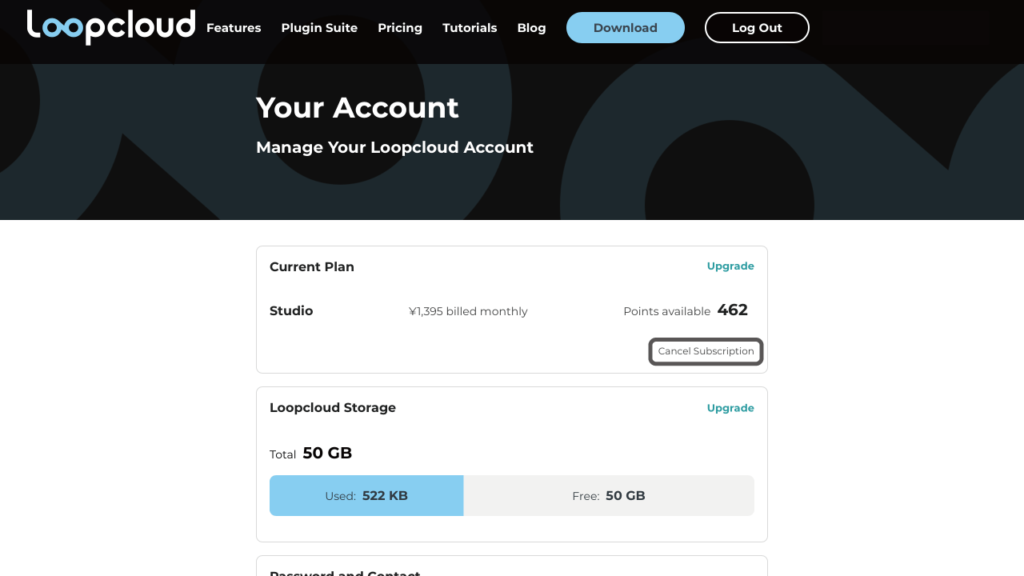 To unsubscribe, log in and click on your address in the upper right corner.
Then click "Cancel Subscription".
5. How to use
List of how to use
Play Loopcloud sounds in your DAW

Buy Loopcloud samples
Manage library
Edit samples in Loopcloud
(1)
Play Loopcloud sounds in your DAW

When you start your DAW, there is a new VST plugin named "Loopcloud".
When the plugin is set on a MIDI track, all sounds played on Loopcloud will be played on the MIDI track.
It can be controlled with a MIDI keyboard.

You can check if you can link with DAW by "DAW" at the bottom right of Loopcloud, and you can cancel the connection.
(2)Buy Loopcloud samples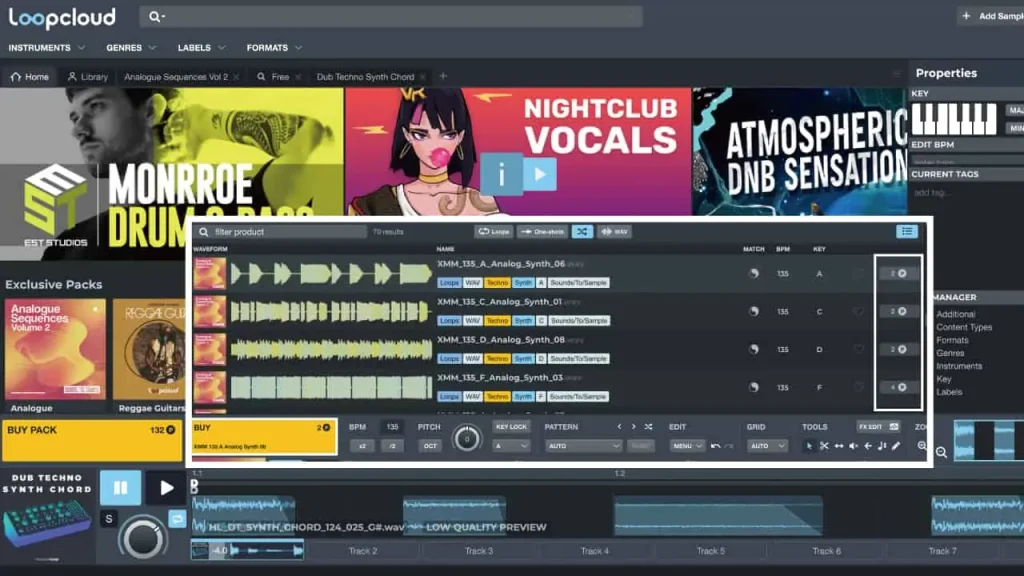 Move the cursor to the sample pack and click "i" to display a list of samples.
Categories and search functions are at the top of Loopcloud.
Tag search is possible, and if you search with the "Free" tag, a free sample will be displayed.
You can purchase them with "P" on the right of each sample, or you can purchase them from "BUY FILE" at the bottom left after selecting a sample.
If you select a sample, you can edit it before clicking "BUY FILE".

When you purchase a sample, it is added to your library, but it has not been downloaded yet.
If you select a purchased sample, you can download it from "DOWNLOAD" at the bottom left.
When you download, "ORIGINAL" and "PROCESSED" Is displayed, select the one you like and drag and drop it into your DAW.
(3)Manage library

You can see your library from "Your Library" on the upper right.
You will already receive some samples when you register.
Those that are only in the library are cloud marks, and those that are downloaded in the PC are PC marks.
Even before downloading, you can drag and drop the sample from the library and paste it on the DAW.
In that case, it will be downloaded automatically.
You can also select the following by right clicking the sample.
Download in background
Add to Cloud Storage
Basically, it is possible to move from PC to Loopcloud by drag and drop, or move within Loopcloud.
(4)Edit samples in Loopcloud
When you find the sample you need, click on the waveform to enter the edit below.

BPM
Speed ​​can be adjusted. There are also 2x and 1 / 2x buttons. When linked with the MIDI track of the DAW, it will be the same as the BPM of the DAW.
PITCH
The pitch can be changed from -12 to +12. Use "OCT" to change the octave.
Select a key and click "AUTO" to adjust the key. However, please note that this is only applicable if the sample has key information.
PATTERN
There are quite a few patterns of cut and pasted samples. When set, the pattern is reflected on the selected sample.
Marks with crossed arrows are randomly selected from preset patterns.
EDIT
EDIT has the following items.
Undo select new file
Redo
Load Session
Save Session
Edit : Editing such as copy paste
View : Zoom
Tools
GRID : The default is AUTO, but you can adjust the grid to any beat you like.
TOOLS
Arrows : General selection tools. You can drag the waveform to move it, or right-click to copy and paste.
Scissors : Cut the waveform.
↔︎ : Move the waveform back and forth without changing the grid position.
Volume x : Mute
← : Reverse
♩ : Change the pitch
Pencil : Paste function, you can adjust the grid to paste by dragging as it is.
FX EDIT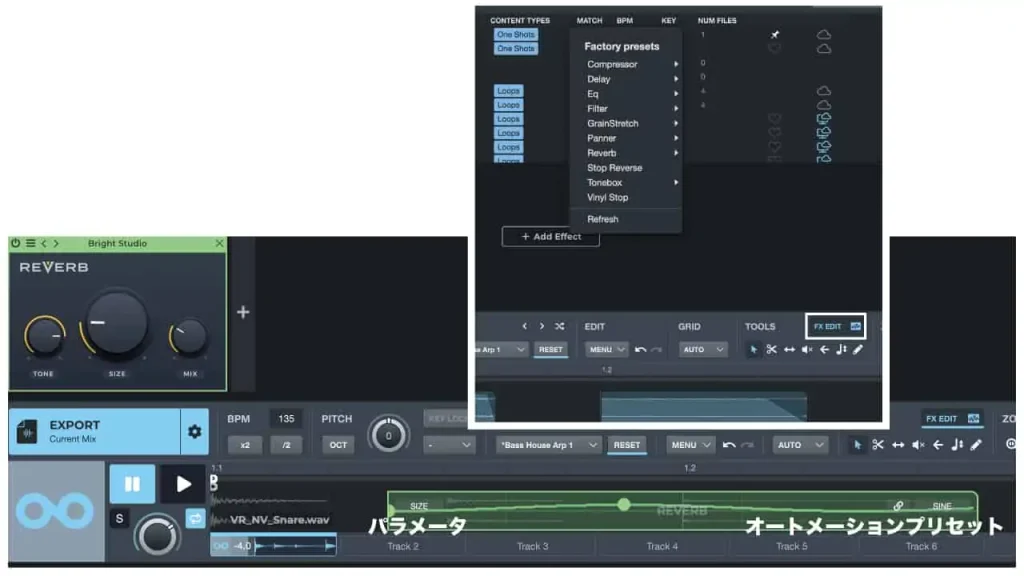 Many effects can be applied from + on the right. The range to apply the effect appears on the waveform. Drag the edge to adjust. You can also set automation for each parameter.
ZOOM
The waveform can be enlarged or reduced.
---
---
Summary
Loopcloud is a service that allows you to download and use your favorite from abundant samples. Plugins such as Loopcloud Drum and Loopcloud Play can also be used for free.
I recommend that you first subscribe to the free plan to determine if you will continue to use it.
I hope this article is helpful for you.
---
---