I purchased Gullfoss and tried it.
This is an equalizer that allows anyone to easily improve the sound. The operation is very simple. All you need to do is set the following 5 parameters and frequency range.
Recover
Tame
Bias
Brighten
Boost


Honestly, I was amazed at the high performance despite the simplicity of the parameters and I think, anyone can easily make the sound better using these tools.
From here, I am going to explain the advantages and disadvantages of Soundtheory "Gullfoss" and how to use it. Please read the details below;
1. What is Soundtheory "Gullfoss"?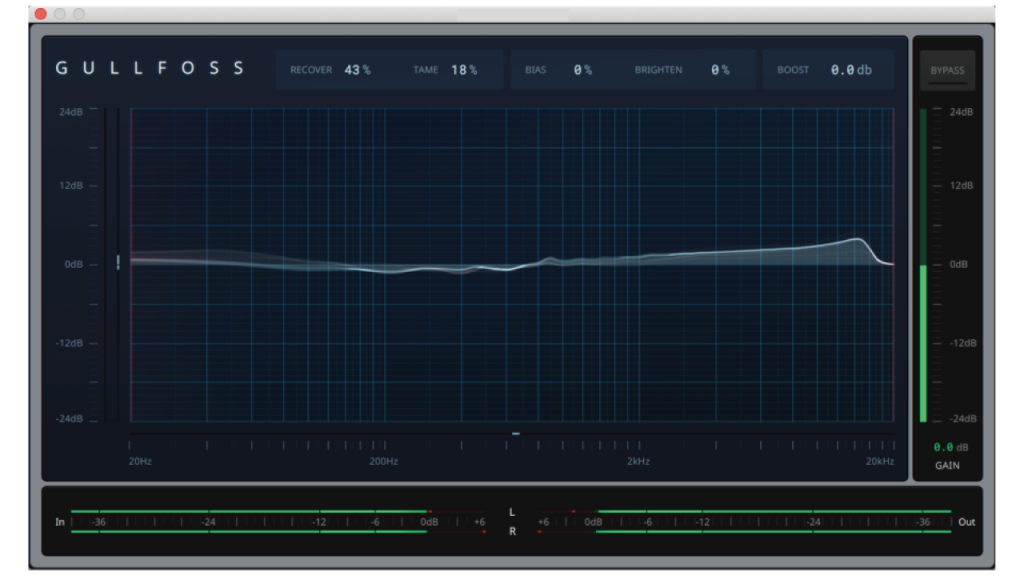 Gullfoss serves as an 'Intelligent Auto Equalizer'. While it does function as an equalizer, Gullfoss allows only for the setting of a general target frequency range, without the ability to specify fine-tuned frequencies and gain. It categorizes sound into two categories: dominant (masking sounds or those that centrally affect other sounds), and submissive (sounds being masked or made hard to hear by other sounds). It's not a standard EQ, so be cautious not to confuse the two.
Furthermore, Gullfoss now comes bundled with the following editions:
Gullfoss Live: This version is designed for environments requiring lower-latency equalization, such as live tracking and live mixing. Against the usual latency (20ms), the Live version has less than 2ms. Not only does it have low latency, but its transient processing is different as well, making it possible to create unique sound designs distinct from Gullfoss.
Gullfoss Master: A mastering-specialized version aiming for higher sound quality and a lower noise floor. Its latency is almost the same as the usual 21ms, and it puts a greater load on the CPU than other versions. It also supports decimal values, allowing for more precise adjustments. It's been improved with auditory perception models, so even with the same values as the standard version, the results will differ.
Specifications:
Capable of mono-to-mono, and stereo-to-stereo processing.
Compatible with M/S channels for stereo processing.
Supports sample rates from 16kHz to 384kHz.
Processing latency: about 20ms for Gullfoss and Gullfoss Master, 2ms for Gullfoss Live.
Auditory model updates approximately 1000 times per second.
Equalizer updates about 300 times per second.
Achieves artifact-free processing through perceptually-considered equalization.
Preserves perceived loudness and dynamics.
Compatible with Mac and Windows.
| | |
| --- | --- |
| Development company | Soundtheory |
| Price | 199USD |
| Main Specifications | Intelligent Automatic Equalizer |
2. benefits of introducing Gullfoss into your composition
There are two advantages when using Soundtheory "Gullfoss"
It will make your sound better easily
It is very convenient to use even for beginners
(1)It will help to improve the quality of your sound

Gullfoss analyzes main components and subcomponents, so it will help to improve the quality of your sound. You don't need to find the EQ points yourself because Gullfoss will do it for you. Cool isn't it?
(2)It is very convenient to use even for beginners
You can use Gullfoss without knowledge on EQ. Just by looking at what Gullfoss capabilities, you will be able to learn.
3. Points to be aware of before using
On the other hand, one important consideration when using Soundtheory's "Gullfoss" is that it may impart too much of its own character to the sound. This is particularly notable when applying it to the overall mix, such as in mastering, where precise adjustments are necessary. If you do not prefer the particular coloration of Gullfoss, it may not be recommended for you. However, this can be resolved by thoroughly demoing the plugin in advance. Let's try the demo to address this concern!
Gullfoss Summary
As a feedback on using Gullfoss, it is an incredibly useful EQ. However, caution must be exercised not to overuse it. If you apply too much, the sound can become overly sharp and lose the charm of your music. It may be more effective to limit its application to a specific frequency range. Particularly, the mid-range is likely to benefit the most from it. You can use it for individual tracks like vocals, as well as for overall fine-tuning. I heard from an engineer that intentionally creating peaks and then using Gullfoss to balance them can yield great results. There seems to be a lot more potential in its usage, making it well worth acquiring.
By the way, another auto-EQ plugin, Sculptor, was later released as part of iZotope's "Neutron 4." Sculptor, with its different coloration, allows you to choose optimized settings for specific instruments, making it a convenient tool, especially for beginners.
<Supplemental> Explanation of how to use
RECOVER/TAME

Let's discuss the important concepts of TAME and RECOVER in Gullfoss.
TAME: Suppresses dominant components.
RECOVER: Enhances submissive components.
Gullfoss classifies sound into dominant or submissive categories. These two parameters allow Gullfoss to control the signal components masked by the processing. The BIAS parameter applies a bias to either RECOVER (+) or TAME (-). You can set the inclination towards either dominant or submissive components here.
When BIAS is tilted towards -TAME :
Increasing TAME = Suppresses dominant components across a wide frequency range. Increasing RECOVER = Enhances submissive components within a narrow frequency range.
When BIAS is tilted towards +RECOVER :
Increasing TAME = Suppresses dominant components within a narrow frequency range. Increasing RECOVER = Enhances submissive components across a wide frequency range.
BRIGHTEN

BRIGHTEN: As the name suggests, it controls the clarity. It only affects the signal when either TAME or RECOVER is not zero, or when both are not zero.
Generally, as it approaches zero, it achieves a more balanced and objective clarity. It is recommended to set TAME and RECOVER to the desired clarity level, and use BRIGHTEN to add more if necessary.
BOOST

BOOST: It emphasizes the low-frequency range and reduces the mid-frequency range.
Additionally, you can adjust the red vertical lines on the left and right to narrow down the target frequency range.
These are the main specifications of Gullfoss' parameters.